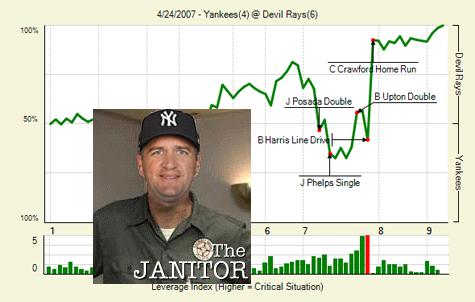 Player
WPA
Pitcher
WPA
Posada
.195
Vizcaino
.138
Matsui
.177
Farnsworth
.017
Phelps
.121
Bruney
.004
Jeter
.024
Wang
-.104
Minky
-.013
Myers
-.506
Cairo
-.016
Melky
-.027
Damon
-.039
Alex
-.051
Abreu
-.116
Giambi
-.145
Cano
-.159
*I've removed pLI from the tables. The stat doesn't sit well with me. It doesn't tell you a whole lot. If you look at the LI for each situation, yeah. But an average over the course of a game? Nothing.
I'm not a big platoon guy unless the numbers — over a reasonable sample size — bear something out. And yes, one game isn't a large sample size. Is it just coincidence, then, that Abreu, Giambi, and Cano were the offensive goats of the game? Probably. And it's not like you're going to sit any of them because of a pitching matchup — especially because of Melky's ineptitude this season. It's not like they have bad lefty-righty splits.
Ben summed up the game from the bullpen angle. The talent is all there…it's just a matter of having them pitch two or three innings a game rather than four or five. But I'll let Ben's words speak for themselves.
The game started off on an exciting note. Both of our recently-returned DLers contributed. Despite the WPA, Wang pitched well, especially for a guy who was making his first start of the season on April 24. He scattered a few hits, which is going to happen, but he didn't really let it phase him until the fourth. After a bloop and a double in the seventh, he came out for pitch count reasons. That move can be contested, but it's one of those double edged swords, so it's not worth levying criticism. However, I will say this: I would have rather had pitch to Harris with the bases loaded than Vizcaino. Viz has had control problems all year, and he ended up getting lucky that the liner was hit right at Cairo. Wang, on the other hand, could have induced the groundball double play to end it. Just sayin…
I thought Mike Myers was supposed to be the guy to come in and get out a tough lefty. Yet, when he's been called upon to do so, he's gotten smacked around. However, he's been stellar in mop-up duty. I know it's a very small sample, but I'd be reluctant to let him pitch to Ortiz or Drew this weekend. Or hell, even Lyle Overbay over the next two days.
There were some highlights on the offensive side, like Matsui's shot that nearly hit his digital visage out in right field. Every time you think the guy is looking shaky at the plate, he goes and whales one like that. It'll be extra nice to have him back in the lineup against Boston, where he can do some serious damage.
Phelps was another highlight, driving in the go-ahead run in the seventh. But then Joe pinch ran for him, which kinda came back to bite him in the ass. I understand the situation: Phelps standing on second, one run lead. You want a guy scoring on a single, so you put the faster runner in there. Problem is, the hitter was Miguel Cairo. What, you actually think he's going to single and bring in that run? You're going to replace a potent bat because you want the runner on second to score on a highly unlikely single? Some may say I'm nitpicking, but I think I have a valid point here. The worst case scenario arose in the ninth, as the Yanks, down by two runs, have their final two outs in the hands of Melky Cabrera and Doug Mientkiewicz.
I don't know why Johnny Damon was replaced, and I didn't hear anything about it this morning. I hope it was because his hammies or back were acting up on him, because there's really no other way to justify that sub. If it was just to give Damon a break from the turf, well, then that's just stupid. Instead of having Cano-Phelps-Damon in the ninth, the Yanks trotted out Cano-Cabrera-Mientkiewicz. A considerable drop-off, to say the least.
Thankfully, Andy Pettitte is headed to the hill tonight. He's delivered when the Yanks have needed him to this season. He's going to have an "eh" start sooner or later. Hopefully, that won't come tonight — the bullpen sure could use an 8-inning performance.