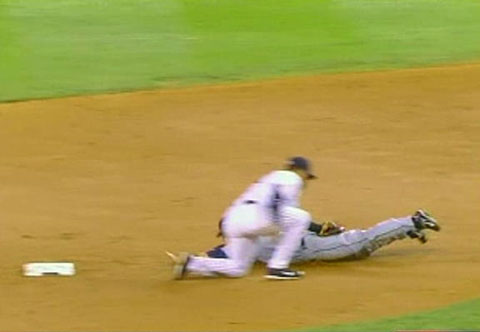 Willie Bloomquist said it best. "We'll take it," he said. "It's just a good thing there's no instant replay in baseball." Which, of course, raises the obvious question: Why is baseball so averse to instant replay?
Meanwhile, Peter Abraham notes that the umpire admitted his mistake. "I kicked the shit out of it," Gerry Davis said. He ought to be suspended for this call. It's an inexcusable inability to do his job.
If the baseball powers-that-be had any sense of justice, they would order this game replayed from the top of the 8th without the blind Gerry Davis on the field. But that won't happen. So what can we do (other than tar and feather Mr. Davis)?
The truth is, the Yankees managed to put 14 runners on base but eked across just two runs. You can blame a bad call for the blown game. Sure, the bad didn't help. But I want to blame Bobby Abreu.
Bobby Abreu, who hasn't hit lower than 3rd since April 20th. Bobby Abreu who is 12 for 67 (.179) with 4 RBIs since April 20th. Bobby Abreu who left seven runs on and struck out looking in the bottom of the 9th with the tying run 180 feet from the plate. Bobby Abreu who shouldn't be batting third and yet keeps landing there because of the Joe Torre's pencil can't figure out a way to get Hideki Matsui or Jorge Posada into that three hole. Hell, at this point, Doug Mientkiewicz is hitting .100 points better than Bobby Abreu since April 20th. Someone wake up the sleeping manager.
But blown calls and missed opportunities aside, I want to leave you with one question that has to be asked: Now can we start worrying about Mariano Rivera?