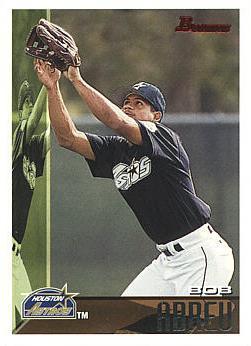 That was one uninspiring effort by the Yanks tonight and another unnecessarily quick Darrell Rasner hook by Joe Torre. Furthermore, Joe decided to bench the Yankees' hottest hitter — Doug Mientkiewicz — in favor of Josh Phelps. Torre wouldn't play Phelps when Mientkiewicz was struggling, but now that Doug is smokin' the ball, Torre decides he needs a night off? That's brilliant.
This team is floundering right now. They've dipped back to two games under .500, and Roger Clemens isn't going to be the answer. As we've mentioned over the last few days, we're less than enamored with Bobby Abreu. While the Yanks sadly won't be trading or replacing Abreu any time soon, something's gotta give. The two hole just isn't the answer for Abreu.
Tonight marked the third game in which Abreu hit second. He is now a whopping 1 for 12 in the two hole and has reached base once batting in front of Derek Jeter and Alex Rodriguez. Meanwhile, Jeter, in the same stretch of games, is 5 for 9 but never gets to bat with anyone on base in front of him.
Bobby Abreu in the two hole is solving nothing, and Oblivious Joe will just keep filling out that lineup card day after day in such a way that makes it impossible for the Yanks to score runs. Nothing new. Nothing to see here. Just another loss.