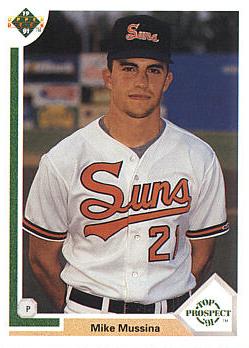 Time after time, some little thing disrupts Mike Mussina's rhythm, and he feels the need to make excuses for himself. After watching this go on and on since 2001, I'm beyond sick of it.
Yesterday afternoon, during the postgame interviews, Mussina claimed that he had nothing coming out of the bullpen and that he really struggled to make it through his half-assed start against a White Sox club that came into the game batting .220 with a sub-.300 OBP AS A TEAM.
But really, Mussina didn't like the rain-out and the extra day of rest. It bothered him. For a smart guy – Stanford, crossword puzzles – Mussina sure can't conquer the mental aspects of the game. He falls apart when someone makes an error; he can't deal with a disruption to his routine.
Mark Feinsand said it best in his blog recapping 14 hours spent at U.S. Cellular Field in Chicago:
Mike Mussina needs to just go out and pitch. I know he's a huge creature of habit, so being pushed back two extra days is a big problem for him, but after playing as long as he has played, he needs to find a way to get past it and give his team 100 pitches.
I know Feinsand isn't the only sports reporter who questions Mussina's fortitude. You have to believe that an accomplished pitcher in his 17th season in the Majors could just suck it up now and then. But more and more, it seems like Moose cannot, and it's a let down.