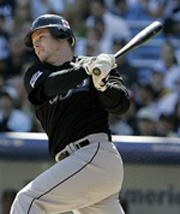 It was so close to happening last winter. The Yankees sought a right-hand-hitting first baseman, and Shea Hillenbrand was on the free agent market. So, you'd think this was a bada-bing, bada-boom deal, right? Well, unfortunately, Hillenbrand and his agent far overvalued his worth and demanded a two year contract. The Yankees declined and signed Doug Mientkiewicz, leaving Hillenbrand to sign with the Angels. Well, it's nearly a half-year later, and Hillenbrand is on the verge of yet again becoming a free agent. It seems that the Angels have realized the errors of their ways, and are prepared to cut bait, giving Bill Stoneman 10 days to trade him, lest he become a free agent (he would almost certainly clear waivers). This is the Yanks' big opportunity. They must sign Shea Hillenbrand.

1. Bring some fight to the team
Everyone says this team has no desire, no fight in them. Who better to infuse that than Hillenbrand. He's been known to start a fight or two. Think about it: he got his manager fired up enough to challenge him to a fight. Just imagine what he can do to a clubhouse full of frustrated players? He'll have the whole team wanting to fight him. And then they'll be livelier than they've been all season.
Then you set up the Shea Hillenbrand pinata in the locker room, and you get a whack at it every time you win. Not exactly a naked chick, but hey, something's gotta get these guys motivated.
2. He's currently hitting better than Doug Mientkiewicz Josh Phelps Miguel Cairo Andy Phillips
There's not much else to say. Hillenbrand is hitting better than Phillips, and that is a fact. Look it up.
3. Duh, he's a Proven Veteran
And everyone knows the key to winning world championships is to load your team with as many proven veterans as possible. It's time for the Canos and the Melkys to step aside; the big boys are coming to town. They can take their inexperienced asses and watch as veterans like Shea Hillenbrand and Miguel Cairo show 'em where it's at.
4. We very well could wind up with the two qualified players who draw the fewest walks this season
Of qualified players in 2006, Shea Hillenbrand was 155th in walks, Robinson Cano 157th. This is out of 160 qualified players. The only players to finish below them are two Mariners (Kenji Johjima and Yuniesky Betancourt) and two players not currently on a major league roster (Ronny Cedeno and Angel Berroa). Right now, Hillenbrand has walked five times, which is worse than both the Mariners. The pesky Cano has walked 14 times, so he'll have to cut down on that a little. Take that, Seattle!
5. With Josh Phelps gone, we need someone else's D to complain about to take the heat off Jeter's
Josh Phelps was run out of town, supposedly, because the Yanks didn't like his D. So that was the talk of Yankees fans following his release. And if defense is the focus, you just know whose name is going to come up next: Derek Jeter, who has single-handedly sullied the name of the Gold Glove. What better way to defuse the situation than to add Hillenbrand's butcher-esque glovework to the mix?
6. That's TWO THREE former Red Sox…and counting
And it will be three once the Sox DFA Mike Timlin and Cashman swoops in. This, of course, will cause Chris Britton's stomach to implode, leading the Yanks to ponder whether they've been wrong about him all along.
7. Imagine the confusion in the bleachers — how in the world do you chant his name?
Or will they even want to chant his name at all?
8. He'd be the most popular Shea in town
You see what I did there? I took the name of the player in question and made a clever pun out of it. Get it? Shea Hillenbrand…Shea Stadium. Oh, you didn't need me to point it out? It's old and hacky, you say? Well, someone alert Anthony Rieber of Newsday. And while you're at it, get all the headline writers of every newspaper in the area, along with all the beat writers and all the columnists. Lord knows we wouldn't want that kind of garbage to appear in every paper, a la "Yankee Clippard," right?
9. Reversing the curses of 2001 and 2004
Not only is Hillenbrand a former Red Sock, he's a former Diamondback, too. Granted, he didn't play for the D'backs in 2001, just like he didn't play for the Red Sox in 2004 (heh, actually, he played for the Red Sox in 2001 and the Diamondbacks in 2004). Since we're so obviously cursed by those years, who better to reverse it than someone with close ties to both teams We won't be losing a Game 7 with this guy on the club!
10. He has a less girly name than Shelley Duncan
I'm not the only one who realizes that this is the only reason he's languishing in AAA, right? I think we can easily recreate the thought process that went into this non-move.
Cashman: Well, we could call up Shelley Duncan. But his name is Shelley. That's not good for PR.
Torre: And he's not a proven veteran.
Cashman: Blackballed it is.