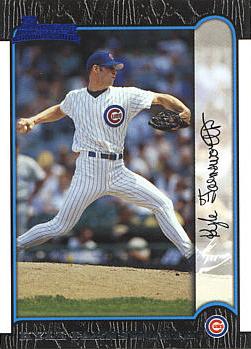 What good is a win without a little controversy? After a long wait — seven days, to be exact — the Yanks finally won a game as they, powered by three A-Rod hits, narrowly beat the A's 2-1.
Mike Mussina pitched 7 strong innings against a team struggling as much as the Yanks were, and Mariano Rivera closed out the final 1.1 innings with 3 K's to nail down his 10th save of the year. But what happened in between Moose's departure and Rivera's arrival was the story of the game.
To start the 8th inning, Joe Torre went with his typical game plan. Now, keep in mind that this game plan has worked approximately three times this year. That's right; just three times this season, Farnsworth has worked 1-2-3 innings. As you can guess, tonight was not one of them.
Against the A's, Farnsworth comes in and gets an out. He then gives up back-to-back hits. With runners on first and third, he fans Nick Swisher, but with the hot-hitting Jack Cust up and the game on the line, Torre goes to his pen. He brings in the future Hall of Famer Mariano Rivera, the man who should be pitching in that situation.
Farnsworth takes his removal with grace and aplomb. In the dugout, he throws his glove and his hat in his second tantrum this week. He then refuses to talk to the media after the game.
Now, in my opinion, Farnsworth has no right to act this way. He didn't do the job, and Torre actually left him in for one batter too many. The Yanks are lucky Swisher struck out. Then, Farnsworth was replaced with quite possibly the greatest reliever of all-time. This fit was immature and totally unwarranted.
Around the Yankee blogs, writers are voicing their displeasure with Farnsworth, and many believe he won't be with the team come August 1. That too was my initial reaction, but now, a few hours later, I'm not so sure mainly because the Yankees are in a position of utter weakness when it comes to dealing Farnsworth.
Right now, Kyle Farnsworth is an albatross around the Yankees' neck. He's in year two of a three-year, $17-million contract and is set to make $6 million in 2008. Worse, his 2007 are terrible. His ERA is hovering around 5.00 while his walks are up and strike outs are down. Opponents are hitting .288 against him, and he is no longer a viable option in the bullpen despite Torres stubborn tendencies to bring him in to close games.
The Yanks, then, are on the hook to pay $6 million to an ineffective reliever with personality and teammate issues. Other teams won't want to assume all of that money and give the Yanks a player in return. That is, if Brian Cashman can convince another team to take on the headache that is Kyle Farnsworth.
So the Yanks have a decision to make. Do they keep Farnsworth because the returns on a trade would be minimal at best? Do they dump Kyle Farnsworth because he, along with Ron Villone and Luis Vizcaino, are dragging down a bullpen and wasting roster spots that should go to others? It's a tough call, and one that won't be easy to make. But one thing's for sure: Joe shouldn't look to Farnsworth late in close games anymore. That game plan just isn't working.