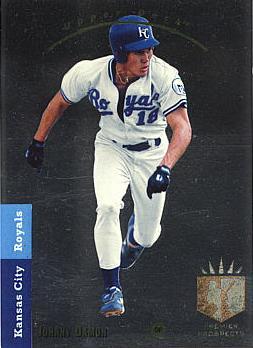 Back in 2004, Donald Rumsfeld, the then-Secretary of Defense, uttered his now-infamous words about the U.S. Army in Iraq. "As you know," he said, "you have to go to war with the Army you have, not the Army you want." While I'm loathe to ever think about Rumsfeld these days, as I ponder the Yankees and their nine-game winning streak that has rejuvenated a season many had written off, his words ring true with the Yankees.
Take Johnny Damon, the Yankees' once and former centerfielder. When the Yankees signed Damon in December of 2005, we knew we were getting an aging, banged-up player who could still hit and cover ground in the outfield but could never really throw. The Yanks were okay with that. Fast-forward to 2007, and Johnny Damon has, in effect, turned into Bernie Williams. I don't mean that in a good way.
Heading into today's game, Damon has been a non-factor on this team. He's dealt with a variety of aches and pains this season, and his defense and throwing arm have gotten so shoddy that he has, in effect, lost his starting job to Melky Cabrera, a far superior defensive outfielder. When (if?) Jason Giambi returns from the DL, Torre will have to sacrifice outfield defense if he wants Damon's bat in the lineup. And that's probably turning into a big "if" these days.
As Bobby Abreu, Derek Jeter, Alex Rodriguez, Jorge Posada and Hideki Matsui have, with help from Melky and Robinson Cano, carried the Yankees for the month of June, Johnny Damon hasn't done much of anything. Damon this month is hitting .220/.291/.280, and he has just one home run since May 13. Johnny Damon 2007 is, so far, a far cry from the 24-HR Johnny Damon 2006.
Looking ahead to the next two seasons, the Yanks and Damon are wedded to each other no matter what. Much like the Bernie Williams situation, the Yanks have a banged up outfielder well on the wrong side of 30 showing drastic signs of decline in the field and at the plate. But it didn't have to be this way.
Flash back to 2004. The Yanks had just lost an epic ALCS to the Red Sox, and Carlos Beltran had just wowed the world with his performance in the NLCS. At the time, the Yanks had Bernie who would turn 36 before Opening Day 2005, and everyone around them knew they needed a centerfielder. Why not Carlos Beltran?
To me, this will stand as one of the most infuriating unanswered questions of the early 2000s. Carlos Beltran, as a free agent, said he would take a pay cut to play with the Yankees. Even when he had a contract offer from the crosstown New York Mets on the table, he still told the Yankees he would sign on to play in the Bronx for less than he could get on the open market. And the Yankees never even made that offer.
Some will say it was the money. The Yanks would have been on the hook for Bernie's 2005 salary and Beltran's 2005 salary. Bernie would have been one expensive bench player. But I don't buy that. In 2004-2005, the Yanks doled out millions for Carl Pavano, Jaret Wright and a Randy Johnson contract extension. Somewhere, somehow, the Yanks could have spent some money for Beltran. It would have been money well spent.
Others may say the Yanks were wary of Beltran's health and drive. He's been maddeningly inconsistent on the Mets, missing games to injuries and not showing the same speed he flashed when he stole 40 bases three years in a row. I don't buy it. You don't pass up on a then-28 year old over questions of intangibles, not after the show he put on in the NLCS.
Outside of the decision to go with Gary Sheffield over Vladimir Guerrero (and yes, I recognize that Vlad may not have been willing to play in New York) and the decision to let Andy Pettitte walk after 2003, the Beltran non-move stands out like a sore thumb. The Yanks with Carlos Beltran would be an even more potent team. The Yanks with Johnny Damon have what will quickly become a problem on their hands. As they did with Bernie by the end of his deal, they will be paying too much for a player with declining skills.
Now, this isn't to take away from the amazing run the Yanks are on. I'm loving every minute of it. But as the Mets come to the Bronx this weekend, it's hard not to think about what could have been with Carlos Beltran and the Yankees.