The Peoria Javelinas defeated the Scottsdale Scorpions 8-5
Brett Gardner: 2-5, 1 R – one of the outs was a line drive to LF. He also turned a routine grounder into a very close play at first.
Juan Miranda: 1-4, 2B, 1 RBI, 1 R.
Eric Wordekemper: 1 IP, 5 H, 3 ER
The Javelinas batted around in the first inning by scoring 6 runs and never looked back. Brett Gardner started in LF and and it's a good thing he did because the center fielder was taken off the field on a cart during the 6th inning after crashing hard into the center field wall. They're calling it a concussion but it looked a lot worse. Gardner took over in CF for Schafer.
Update: Ross Ohlendorf will report to the AFL soon, as mentioned by Fred in the comments. The official report can be found here.
Juan Miranda had a great start to the day by hitting a line drive laser over the first baseman's head and down the right field line for a ground rule double that scored Gardner from third. You gotta love the determination from the big man – the umpire stopped play when the ball got lodged under the fence in right field but Miranda ran hard through the stop sign all the way to third before they sent him back. He must really want a triple for his resume'.
Eric Wordekemper pitched the 9th inning in his first appearance after taking over Ohlendorf's spot on the roster. He entered the game with an 8-2 lead but almost let the game slip away. He got some help from a great diving catch from the LF'er for the second out with two runners on base. He hasn't pitched in over a month so hopefully he's just shaking off some rust.
I've gotta go back to the old 9-5 until Thursday's game against the three time AFL defending champs, the Phoenix Desert Dogs. Also just a heads up, there's no games scheduled on Sundays during the AFL.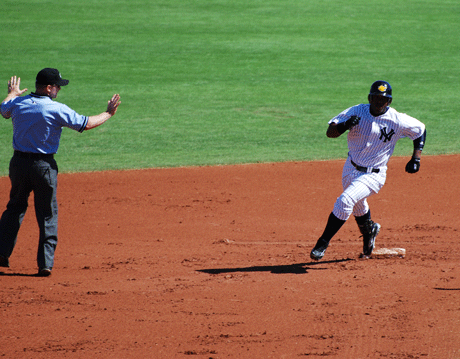 Miranda really wanted that triple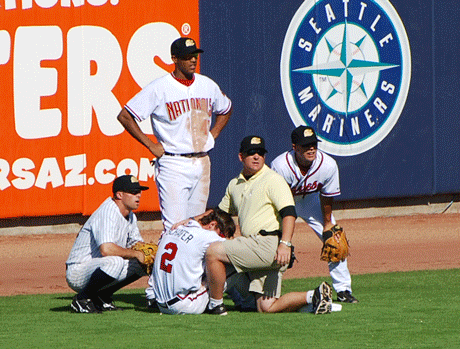 Schafer injury