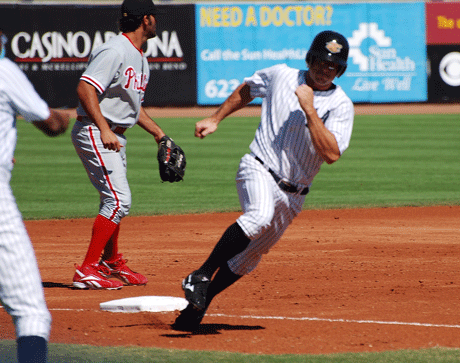 The Javelinas beat the Saguaros 8-3
Brett Gardner: 1-3, 1 Triple, 2 BB, 1 K, 1 R
Reegie Corona: 1-3, 1 Double, 1 BB, 1 K, 1 R
The Javelinas are now 3-1 on the season after another convincing victory. They're batting .328 as a team and are led by the top two hitters in the league, coming into today's game. After today's results, Gardner is hitting a cool .500 through the first four games of the season.
It's still early in the season but I just wanted to comment on a few things I've noticed so far. I'm not a big fan of body armor but Juan Miranda is a guy that needs it. He's already been hit twice in his first three games and it doesn't look like it's going to stop anytime soon. He really crowds the plate and he seems like a dead pull hitter. If they don't get the pitch all the way in, he hangs over the plate, the front hip flies open and the ball winds up right in his wheel house. So when pitchers come inside to Miranda they're making sure it pushes him off the plate and sometimes he can't get out of the way. If I was going to compare him to someone at the major league level, I would have to say he resembles Bobby Abreu's hitting approach in a lot of ways. The way they both step into a pitch and then fly open and also the way they both still find a way to hit to the opposite field are very similar.
I can't say enough about how well Brett Gardner plays the game. He came back to Arizona noticeably stronger this year and I get the feeling that he's just a few minor adjustments away from being a starter in the major leagues. He uses his speed to do certain things exceedingly well. He catches every ball that's even remotely close to him. He caught the final out in today's game by running down a line drive to the warning track that most center fielders wouldn't get to. I just got the feeling that he was going to catch the ball the whole way even though he ran into the wall after making the catch on the run. He also hit a frozen rope past Cameron Maybin in CF for a stand up triple. It probably would have been a HR if he got under it a little bit more.
Reegie Corona looks like good defender at shortstop. He has a strong enough arm to throw hitters out from deep in the hole and he's shown very good range to his left. He also has more power than I expected. He looks good from left side but he's still looking for his first hit as a right handed hitter. It's small sample size but the bat looks noticeable slower from the right side. He's been a little better in the last two games so hopefully he just needs to get his timing back but it's something to watch for as the season plays out.