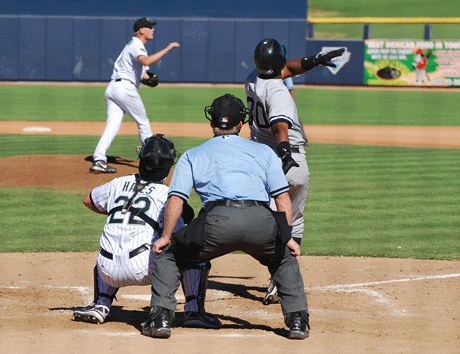 The Javelinas beat the Saguaros 14-2
Juan Miranda: 4-5, 1 HR, 4 RBI's, 4 Runs, HBP
Kevin Whelan: 1 IP, 1 H, 1 K, 0 Runs
The rest of the Yankees had the day off
The picture says it all. Juan Miranda hit his first home run and did it with authority. The HR landed just right of the 385ft marker and at the top of the the hill/seating area. The hill is at least 40ft long so the rough projection makes it a 425ft HR that went as high as it did far. It even got a rise out of a couple scouts that were sitting nearby. He managed to hit the ball hard in every at bat today and it seems like his early season slump is behind him.
They don't allow fans in the outfield seating area during the game so Miranda's HR ball just sat there for the rest of the game while I tried to find willpower and not run out there like a maniac. There's a very fine line between trying to be a respectful fan and being this guy
Kevin Whelan looked very good in his short appearance. The first batter hit a slow roller back to the mound. The second guy lined a single to right. The third batter hit into force out at second and the forth batter struck out on a good splitter down and away (lefty).