For reasons unknown to me, MLB.com keeps official depth charts updated constantly throughout the season. As players leave via free agency and sign with new teams, those charts are updated for all your fantasy needs.
Of course, these charts — works in progress, if you will — also make for some humor and a few nightmares. Take, for example, the current Yankee depth chart: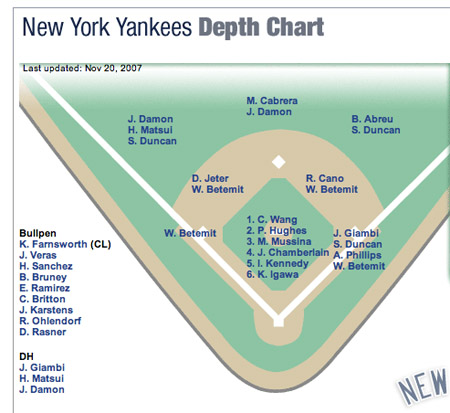 That, my friends, is a nightmare. Because Mariano Rivera, Jorge Posada and Jose Molina haven't officially re-upped, the Yankees have no one catching their supposed closer Kyle Farnsworth. I'm already breaking out in a cold sweat just thinking about it.
Meanwhile, with the A-Rod deal still pending, Wilson Betemit will be the starting third baseman. Naturally.
The bullpen behind Kloser Kyle — Humberto Sanchez, Jose Veras, Brian Bruney, Edwar Ramirez, Chris Britton, Jeff Krastens, Ross Ohlendorf, Darrell Rasner — is incredibly disturbing. Can you imagine Bruney as the third option out of the pen? Run away.
Luckily, Opening Day is a long way away. By then Mo, Jorge, Molina and A-Rod will have assumed their rightful places on the chart, and I wouldn't be surprised to see Andy Pettitte's name penciled in that number one spot on the mound either.
So as the Yanks' free agent spree has largely come to a close, we can sit back and be thankful that this isn't going to be our depth chart. Had the chips fallen the other way, we very well could have been looking at this situation. And we would have been panicking.