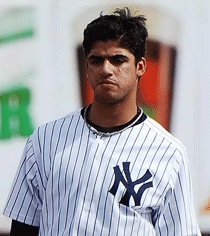 Reegie Corona
Pos: SS, 2B
Bats: Switch Throws: Right
Age, DOB: 21, 11/07/1986
AFL Stats: AVG .188 OBP .291 SLG .313
Background: The Yankees signed Reegie Corona (pronounced "Ree-Gee") as a 16 year old project during the July 2nd signing day back 2003. He was generously listed at 160 pounds and didn't have the strength that was needed to be a starting player in the minors so he spent the next year and a half getting ready for the full season leagues. He made the most of his time and started filling into his frame and in 2005 he made his debut with the Staten Island Yankees. He didn't hit much that year and was barely a blip on the prospect radars. However, in 2006 he was given an opportunity to fill in for an injured CJ Henry and he made the most of it by belting his first two home runs and had an average that hovered close to .400 during a 16 game stretch. From that day forward the Yankees haven't been able to take Corona out of the line-up. He's continued his hard work in the weight room and has added an extra 35 pounds of muscle to his frame. The Yankees took a risk with his projection as a 16 year old and that gamble seems to be paying off.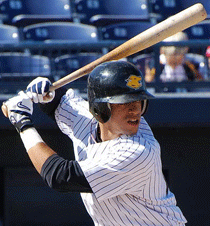 Offense: Corona is an interesting switch hitter in the way that he looks like a completely different hitter from each side of the plate. From the left side he's very quick to the ball and has a compact swing that can generate decent power numbers. However, from the right side of the plate he has a very long swing and his hands don't seem quick enough to catch up with a fastball. During the AFL, this was compounded by the unusual number of left handed pitchers that took part in the league. As you can imagine, his splits weren't pretty. He failed to collect a hit in any of his 15 AB's against lefties but against righties he put up a solid .273 average with 1 homerun and three doubles in 33 AB's. He also showed good speed by chipping in with 4 stolen bases without getting caught.
His splits looked good until he reached AA this year so hopefully there's some type of adjustment that he can make to maintain those numbers in the upper minors. If not he might need to try batting exclusively left handed or he might be forced into a platoon role at the major league level, which would limit his chances as a utility player. But the good news is that he just turned 21 and should have plenty of time to make adjustments.
Defense: When I heard that Corona was moved from second base to shortstop I thought he would be a serviceable defender but, as with most second baseman, I didn't think he would have the range or the arm to make the difficult plays over the course of a full season. Instead he looked like he had been playing there for years. He made some nice plays on long throws across the diamond and made a spectacular play on a ground ball past the pitcher where he charged the ball and all-in-one motion he threw across his body and just nipped the runner at first. He's not flashy but he's a slick fielder that can make all the plays at shortstop.