The other day I posted a list of five prospects that I believe don't get the respect the deserve; now I'm going to look at the flipside and take a gander at five guys that I think get a bit too much hype. Now don't get me wrong, I'm not saying these guys aren't good prospects or anything like that, I'm just trying to control the New York hype monster (every fan over-rates their team's players, whether you want to admit it or not.).
The good stuff (or bad stuff, depending on your point of view) starts after the jump. 
Frankie Cervelli
Cervelli signed with the Yanks out of Venezuela in 2003 and toiled away in the Dominican Summer League for parts of 3 seasons before coming stateside in 2005. In limited action he hit .190-.300-.276 with the GCL Yanks that year, but he exploded onto the scene with a .299-.385-.416 effort for the Staten Island Yanks in 2006. The breakout is credited to Cervelli batting solely from the right side and scrapping his switch-hitter approach.
Cervelli's SI effort made him an interesting guy to keep an eye on heading into the 2007, but he blew the doors off the hype machine by hitting .361-.448-.458 during the season's first month. For whatever reason, many fans either didn't realize or choose to ignore the fact that Cervelli came back down to earth after his hot streak (his BABIP was an absurd .441 in April and the early part of May), hitting .247-.326-.369 over the final 4 months of the year.
Cervelli gets instant brownie points for being a catcher that has the defensive tools to stay behind the plate, but hitting under .250 for the most of the year in A-ball as a 21-yr old doesn't exactly scream top prospect, even moreso now that he stopped switch hitting. He certainly doesn't have Jesus Montero's bat, and he can't match Austin Romine's all-around package, making Cervelli the Yanks' third best catching prospect for me. Hot streaks – especially early season hot streaks – tend to cloud the mind.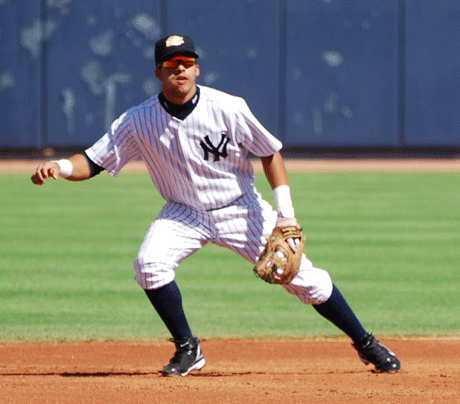 Reegie Corona
Signed out of Venezuela in 2003 with Cervelli, Corona was nothing more than an afterthought until he hit close to .400 during the first half of 2006 while with Low-A Charleston. He finished the year with High-A Tampa, putting up a .293-.347-.369 line to go along with 28 steals on the year, and even was named the organization's sleeper prospect in the 2007 edition of the BA Handbook.
Aside from that though, Corona's bat is well, pretty limp. His career line is .260-.332-.326 in over 350 games, and if you take out his 2006 campaign, the career numbers drop to .246-.329-.306. Yes, that's a .306 slugging percentage. It's not that he can't make consistent contact or anything like that, it's just that he's not strong enough to drive the ball with regularity, whether it be back up the middle, into the gaps, or through the hole. He'll be 21 in a few weeks, but can you really project him to gain that much strength as he finishes maturing?
In the field he's solid, nothing spectacular. He can make all the routine plays, and even some not-so-routine ones, but he'll never make that game-changing defensive stab. His best asset is his versatility, as he's played all over the infield and even a little outfield in his career. I dunno about you, but Reegie Corona screams Miguel Cairo 2.0 to me.
Seth Fortenberry
Fortenberry played sparingly in his first 3 years with Baylor (both due to injury and ineffectiveness), hitting a combined .200-.316-.359 with 17 XBH, 57 K and only 37 runs scored in 117 games. He broke out as a senior, hitting .326-.416-.577 with 10 doubles, 10 triples, 9 homers and 22 steals in 63 games, and he carried that success over to pro ball.
Fortenberry's 87 RBI was second most in the system in 2007, and he pounded out 23 doubles & 18 homers to go with 25 steals while playing in all 140 of Low-A Charleston's games. No doubt Fortenberry had a remarkable first full year as a pro, but here's the thing: he finished the year as a 24-year old. In Low-A ball. You're talking about a guy who spent 4 years in the Big-12 Conference and played in the College World Series. He's destined to succeed in the Sally League. Fortenberry is going to have to prove himself every step of the way, and he's going to have to rely on his natural speed and athleticsm to cover up his other shortcomings. Maybe he could become the next Kevin Thompson; would that be such a bad thing?
George Kontos
One of these things is not like the other things, can you guess which one of these things doesn't belong?
5.16
5.43
5.29
2.53
4.03
That theres is Kontos' ERA at each stop dating back to his freshman year at Northwestern (that's Scranton lingo). Now we're all intelligent people here (at least I'd like to believe we are), so it should be fairly obvious that the 2.53 ERA he put up with Staten Island last year is the exception rather than the rule.
So what happened? Various reports claimed that the Yanks tweaked Kontos' mechanics a bit and viola, the fastball picked up a mph or two and the slider started biting, not floating. Now that's entirely plausible; his K rates did go up markedly (9.42 Kper9 after 7.43 in college) while his walk rate dropped drastically (2.18 BBper9 vs 5.13) and his homers allowed improved as well (0.34 HRper9 vs 0.58), but the fact remains that his stuff just isn't good enough to start in the bigs.
He's a 2-pitch pitcher with a 91-93 fastball and a hard slider, essentially the same repetoire as most of the guys featured in the bullpen revolving door this year. His best asset is that he pounds the zone, but when your fastball doesn't have much life, that can be a bad thing, hence the 15 HR given up in 94 innings this year. There's also some makeup questions, and stuff like that is such a turn off.  
David Robertson
Might as well start with the David Ortiz in the room: David Robertson had a ridiculous year in 2007, completely and utterly ridiculous. It was just 5+ months of dominance: 45 hits allowed and a 113-32 K/BB ratio in 84.1 IP at three different levels is as good as it gets. Sadly though, his stuff doesn't validate the numbers.
Robertson sat at 88-92 last year, and word on the street is that it dropped down to 86-88 by September. His curveball is a legit strikeout pitch when he's got it working, but he just started throwing it in 2007, so it's still a work in progress. He's always had a pretty good changeup, but it's not a great pitch by any means.
So do you see what I'm talking about? The numbers are great, but where'd they come from? Is it a case of an older, smarter pitcher taking advantage of younger hitters? Maybe. Did he just get lucky? Maybe, but doubtful. I don't want to say he's the relief version of Tyler Clippard, but it's a similar situation. Robertson (who's Facebook profile links to RAB) has a chance to be a real good middle man in the bigs, but top notch set-up man, or even a closer? Nah.
I dunno, maybe I didn't make a compelling case for any of these guys, but the moral of the story is don't get caught up in minor league stats, especially at the lower levels. Guys with gaudy A-ball stats will break your heart more times than you'll care to count.