It's getting to be that time of year again, the time when we can start looking at some prospects for June's first-year player draft. It's obvious now that the Yanks' draft strategy in the early rounds is to take whatever top talent has fallen because of signability/injury concerns/etc., so I've decided to kick off this year's draft coverage by looking at the best players available, since there's always a chance they could fall.
The draft order is basically set (there are only five free agents left unsigned that will bring back compensation), and the Rays have earned the dubious distinction of becoming the first team in the history of man to have back-to-back first overall picks. It's almost unfair considering how ridiculously stacked their farm system is, but what can you do. The remainder of the top 5 picks belong to the usual suspects – the Pirates, Royals, Orioles and Giants.
The Yanks hold the third-to-last pick of the first round, #28 overall. Unfortunately the Tigers and Diamondbacks pick at numbers 21 and 26 overall, respectively, and those two teams are never shy about spending big bucks. The Red Sox pick at #30, meanwhile the Angels forfeited the #27 pick to the Twins (for signing Torii Hunter), so the other two huge spenders pick after the Yanks. The Mets pick at #18 (from the Braves for Tommy Glavine) and #22, and even though Omar Minaya vows to start spending more on the draft, I'm not gonna believe it until I see it.
Beyond the first round, the Yanks currently hold the 41st overall pick thanks to the departed Luis Vizcaino, but that pick could get pushed back to #45 overall depending on where the remaining guys sign. The Yanks' second round pick will be either 32 or 33 picks after their sandwich pick, their third rounder 30 picks after that, and their fourth rounder 35 picks after that (there are some funny compensation picks in there that are throwing things out of whack). Worst case scenario, the Yanks are picking at #28 (1st round), 45 (sandwich), 78 (2nd), 108 (3rd), 143 (4th), 173 (5th), and then every 30 picks thereafter. The last time the Yanks had three of the top 100 picks (or four of the top 108 for that matter) was 2004, when they had five such picks.
This year's draft class is generally weaker than last year's. The high school class is significantly thinner in both arms and bats, but there is a deeper and more diverse crop of college hitters. The guys I highlighted below are eight of the best players available (some of whom are more likely to fall than others), although so much is going change between now and draft. In terms of talent, any of these guys would be an absolute coup for the Evil Empire, and of course the Yanks have the cash to take advantage.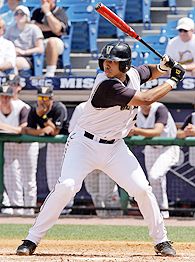 Pedro Alvarez, 3B, Vanderbilt
Arguably the best all-around hitter in the country, Alvarez is a local boy from da Bronx and attended Horace Mann High School. Alvarez's offensive package is impressive; he combines a sweet left handed stroke with an advanced approach and plus power to all fields. The two biggest knocks on Alvarez are that his footwork, reflexes and throwing will eventually relegate him to the outfield, and that he has some holes in his swing that lead to big strikeout totals. He's arguably the highest upside hitter to come out of the college ranks since Alex Gordon, and his talent will be tough for teams at the top of the draft to pass up, regardless of price tag.
Tim Beckham, SS, Griffin High (Georgia)
Beckham is "the guy" of the draft; he's the most athletic and the most physically talented player in the country, high school or college. Cut from the Jose Reyes/Hanley Ramirez/Jimmy Rollins mold of speedy shortstops with pop, he embodies the high upside, electric tool package expected of an early first round pick. Committed to Southern California, Beckham is considered signable at the right price. He has his doubters because he hasn't faced the best competition in high school, but the talent is undeniable. He'd be the steal of the century if he fell to the Yanks at #29.
Gerrit Cole, RHP, Lutheran High (Santa Clara, CA)
Comin' straight outta Compton…okay fine, coming straight out of a middle-to-upper class, white collar NorCal suburb, Cole just may have the liveliest arm in the draft. Named the top HS player in all the land by PG Crosschecker, Cole has the type of power arm that teams crave at the front of the rotation. He consistently sits at 93-95 with his heat, is improving his changeup, and sports two potentially lethal breaking pitches in his power curve and sharp slider. He's a scout's dream at 6′-3″, 190 lbs, throws with a free and easy arm action, and he's a tough kid. The only negative surrounding Cole is that he's never been allowed to work deep into games, as he's rarely crossed the 75 pitch plateau in HS. Committed to top ranked UCLA, Cole's stuff is on par with what Jarrod Parker brought to the table last year. I know the Yanks have young pitching coming out of their ears, but man, you do not pass up an arm like this.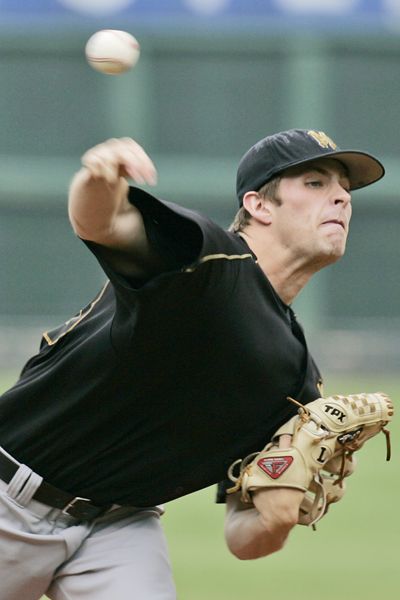 Aaron Crow, RHP, University of Missouri
Crow is the top college righthander in the draft class, which is a demographic that baseball seems to have fallen in love with. A notch above all the other righties in the country, you can be sure he's one of the top targets for teams holding high picks because of the perceived reduction in risk. I'm not going to bother to write out a scouting report, because you can watch it for yourself here. The one thing you can't see in that video is his command, which is reportedly outstanding and continuing to improve (53 walks in 195.33 college IP). Of all the players mentioned in this post, Crow is the least likely to fall because of his polish, stuff, and the fact that he's such a desirable commodity.
Eric Hosmer, 1B, American Heritage High (Miami)
Of all the players on this list, Hosmer is the most likely candidate to drop in the draft, and I mean precipitously. He's already hired Scott Boras as his agent advisor, let it be known that he was looking for one-hundred billion dollars (not really, but he wants a ton of cash), and reportedly showed up to a showcase event on a private plane. Already a YouTube superstar, Hosmer's mammoth power has attracted attention since he was a freshman, but he's more than just a mindless slugger. He hits for average and draws a ton of walks, plus he's pretty nimble around the bag to boot. High schoolers that are already relegated to first aren't the most desirable targets in the first round (last HS 1B taking in Round 1 was Prince Fielder in 2002), but bats like Fielder's and Hosmer's will make teams think twice. Hosmer is much more likely to end up at Arizona State than have a team fork over the kind of money he's looking for, so unless someone takes him early with the intent of paying him, he's a candidate to go completely undrafted. The Yanks have the money and a disturbing lack of power prospects, so if they're interested they might be able to snag him in a mid-to-late round and pick up a potential superstar.
Brian Matusz, LHP, University of San Diego
A big power lefty (6'4″, 200 lbs), Matusz may have the highest ceiling of any college arm in the draft class. He sits at 89-93 with his fastball, and backs it up with a very good curveball and a good changeup, which I've seen be absolutely devastating at times. He's a workhorse, throwing 212 innings in 31 career starts for the Toreros. Matusz's biggest drawback is his delivery, which has a funky little twist and lots of moving parts. I can't find a video anywhere on the interweb, but it's one of those deliveries that makes you wonder how his arm is still attached to his body. Matusz isn't on par with David Price, but he's better than Danny Moskos, Ross Detwiler, Joe Savery and Aaron Poreda, the other college lefties taking during the first round of the '07 draft. The Yanks' system is alarmingly devoid of LHP prospects (Chase Wright sucks, accept it), although landing Matusz may not be anything more than a pipe dream.
Tim Melville, Holt High (Missouri)
Picking between Melville and Cole is really just a matter of preference; in terms of talent and aptitude, they're on an even plane. Melville does it a little differently, relying a bit more on command, but he still dials his fastball up to 95. His changeup is very advanced for a high school kid, and his curveball is a swing-and-miss pitch. He's a superb athlete (he plays third and the outfield when not pitching for his HS team) and repeats a nice and simple delivery. Melville's competition in the suburbs of St. Louis isn't top notch, but that's really nothing more than nitpicking. He's committed to North Carolina, which historically is a tough school to lure recruits from. That commitment, and top 10 money demands are what could land Melville in the Yanks laps.
Justin Smoak, 1B, University of South Carolina
To put it simply, Justin Smoak is Mark Teixeira. He's got plus power to all fields from both sides of the dish, the ability to hit for average with sacrificing power, a patience approach and Gold Glove ability at first. The only thing he can't do that Teixeira can is play third, but Smoak can't do that because he throws lefty (besides, Tex hasn't played third in years). Smoak is a good athlete with a powerful frame (6'3″, 200 lbs) and can play the corner outfield spots in a pinch. There are no discernible holes in his swing, and as far as I'm concerned, he's the top player available in the draft. Unless he comes forward with outrageous bonus demands, Smoak won't make it past the Giants and the #5 pick, who desperately need young hitters. Hell, they desperately need young anything really.