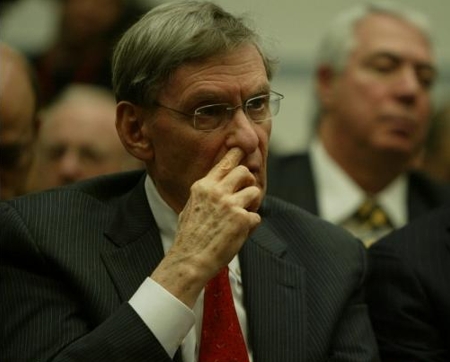 Bud Selig demonstrates to Congress that he even looked for steroids up his nose. (Photo — a a few more like it — from The Big Lead via Big Head DC.
Let's be honest: Despite most people's vehement denials, at some time or another, we all pick our noses. Sometimes, it's hard to breath; sometimes, you just have to get something out. But the vast majority of us do this unappealing act far from others. We do it in the confines of our own homes or maybe in the bathroom or maybe when we think no one else is watching us.
But not Bud Selig. No, no, not Bud. Baseball's Commissioner will defiantly pick his nose while the cameras are rolling. He will defiantly pick his nose in front of a Congressional Committee during one of the few times ever that normal people will stop and watch a Congressional Committee hearing. And he will do it while a row of photographers sit a mere five foot away from him and while cameras are broadcasting the event to the world.
Have you no shame, Mr. Commissioner? You are, after all, supposed to the face of baseball.