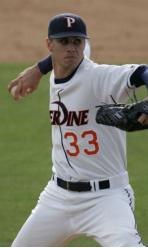 Adam Olbrychowski | RHP
Background
Olbrychowski was born and raised in Los Angeles, and lettered in baseball all four years at Grover Cleveland High, the same school that produced two-time Cy Young Award winner Brett Saberhagen. He was the starting right fielder as a freshman, when he helped lead the Cavaliers to the California Interscholastic Federation City Championship over four-time defending champs Chatsworth High (the same school that produced 2007 first rounders Mike Moustakas and Matt Dominguez). He was a two-way player as a sophomore and junior (he earned All-City honors as a junior), but he didn't develop into a legit prospect until he was a senior, when he focused on pitching and went 5-0 with a 0.21 ERA and 61 K in 32.2 IP. The LA Times named him a "Player to Watch" in 2004, but Major League teams shied away from the righty and he went undrafted.
Obrychowski was heavily recruited by several big time colleges, with Arizona, Arizona State, Cal Berkeley, Cal State Fullerton, Long Beach State, Pepperdine, Rice, Santa Clara (where Phil Hughes committed), UCLA and USC all tendering him scholarship offers. He eventually chose to study political science at Pepperdine and it's too good to be true Malibu campus.
He pitched sparingly for the Waves as a freshman, making only ten unspectacular relief appearances during the regular season. Olbrychowski was he winning pitcher in the WCC Championship Game, delivering 3 innings of one run relief against Loyola Marymount. He made his first career start in an emergency fill-in role against USC in the Championship Game of the Long Beach Regional, where he gave up 2 runs in only 1.1 IP in the loss.
Olbrychowski saw his role increase his sophomore year, as he made seven starts before moving to the bullpen to make four more appearances. He finished the year 2-4 with a 4.61 ERA, giving up 53 hits, 21 ER and 17 walks in 41 IP (20 K). He made a dominant relief appearance against San Francisco in Game 2 of the WCC Championship Series, striking out 3 in 1.1 perfect innings. Pepperdine again lost in the Regional Championship Game, this time to Missouri.
After his sophomore year he participated in a wood bat summer league for the first time, heading to the Clark Griffith Collegiate League in Washington DC. Although it's less prestigious than the famed Cape Cod League, the CGCL still has produced dozens of big leaguers, including Derrick Lee, John Maine, Jonathan Papelbon and Mark Teixeira. Olbrychowki dominated the league, going 4-2 with a 1.10 ERA for the Vienna Senators. He finished the summer with a 49 IP, 28 H, 6 ER, 17 BB, 56 K line, and was named the circuit's top prospect by Baseball America.
Looking to build off his dominant summer showing, Adam O. headed into his junior year and served as a workhorse swingman for the Waves. In a career high 22 appearances (4 starts), he threw 68.1 IP, giving up 60 H, 22 ER, 20 BB while recording 41 K. He set career highs in wins (5), innings and strikeouts, and held opponents to a .244 batting average. He finished fifth in the conference in ERA (2.90), and was named to the All-WCC Team. Olbrychowski threw 6 sterling innings of relief against Long Beach State in the loser's bracket of the Long Beach Regional (2 H, 1 R, 1 BB, 2 K), but he got sacked with the tough luck loss that ended Pepperdine's season.
Bouncing between the rotation and bullpen didn't help Olbrychowski gain exposure, but he was still a good bet to go on Day 1 of the draft thanks to his CGCL showing. The Yanks selected him with their 5th round pick (#184 overall), making him the final selection of Day 1. He signed shortly thereafter for a $123,000 bonus, which is actually $300 below slot (and people say the Yanks are bad for baseball).
Pro Debut
Olbrychowski reported to Short Season Staten Island after signing and worked strictly as a starter. The Yanks kept him on a strict pitch count, and overall he was pretty inconsistent start to start. He squeezed a few stinkers in between some stellar outings, and the result was a rather boring pitching line: 58.1 IP, 51 H, 34 R, 29 ER, 33 BB, 51 K with a 1.02 GB/FB ratio. Olbrychowski didn't pitch in the postseason as SI was bounced after 2 games in the best-of-three series against Brooklyn.
Strengths
Olbrychowski has a fantastic live arm that rates behind only Andrew Brackman's in the Yanks' 2007 draft class. His fastball sits at 91-93, touching the mid-90's out of the bullpen, and it has explosive finish at the plate with hard sink. Hitters have a tough time getting any lift on the pitch, which is evidenced by all 8 homeruns he's given up since 2004 (he let up 6 of those bombs last year, after nearly tripling his previous career high innings pitched total). He rounds out his repertoire with your standard issued changeup-curve-slider package, although none of those pitches is anything to write home about.
Olbrychowski has good size (6'2″, 180 lbs) and has never missed time due to injury. He's a good athlete, and it helps him repeat a delivery that has a little recoil to it. His experience playing the field helps him defend his position well, plus he's not a total embarrassment at the plate. There are no makeup or work ethic questions, nd he's already shown that he can be effective either in the rotation or in the pen. You may have picked this up in the "Background" portion, but he's been pitching in big games all throughout his college career – always a plus.
Weaknesses
While his fastball was enough to survive in college, Olbrychowski needs to improve on his secondary pitches to get by as a pro. Knowing the Yanks, it's only a matter of time before they have him scrap the slider and keep Uncle Charlie around for dinner. He needs to improve his changeup to battle lefties in particular; they tattooed him to a .311-.370-.378 line in college, and a .276-.396-.368 line with Staten Island. Olbrychowski has good stuff, but he's a bit of a project and needs to learn how to be more consistent and throw more quality strikes. Once he does that, his strikeout totals will improve, as will his prospect status.
2008 Outlook
The Yanks will keep Olbrychowski in the rotation for the time being for development's sake, and he'll likely start 2008 with Low-A Charleston. Don't be shocked if he's the River Dog's Opening Day starter.
My Take
I've learned to spell Olbrychowski thanks to this profile, but I'm still going to refer to him as Adam O. in the future for simplicity's sake. I think he's a reliever long term, but if he improves just one of his secondary pitches he's got a chance to be a pretty darn good reliever. It's one thing to throw hard and all that, but having that late, explosive life on the fastball is special. The Yanks have had some success in the recent past drafting pitchers with spotty track records (Joba and George Kontos come to mind), and Olbrychowski is just another member of that club. Keep an eye on his strikeout totals; that'll be the best indicator of how his stuff is developing.