Did you know that more than one in every 100 American adults is in prison? That's kinda scary. Every year over 1,500 players hope to kick start a potential big league career come the June amateur draft, and it's inevitable that a few bad apples end up in the crop. Lastings Milledge was a first round pick despite being expelled from high school because he allegedly raped a classmate. Clay Buchholz was a sandwich pick after … well, you know what happened there. Elijah Dukes is in a class all by himself. Heck, even Tyler Clippard was booted off his high school team because of a DUI. Boys will be boys, except sometimes those boys are really good at playing baseball.
Major league teams have shown that they're willing to take a chance on a player with makeup issues if the talent is there. While it's not ideal to build your franchise around guys with less than colorful backgrounds, remember that prospects generally serve two purposes: feed talent to the major league roster, and serve as trade fodder. There will always be someone out there ready to take a chance on a talented kid if you're sick of dealing with him. And people do change; life isn't about what they do or what they've been through, it's about the type of person they become afterwards. Everyone needs a second chance now and then.
This draft class is no different, with a handful of guys bringing more than just baseball ability to the table. I've decided to highlight the best of the worst because sometimes the talent is just too good to pass up. Fun starts after the jump.
Lonnie Chisenhall, 3B, Pitt CC (NC)
Rated the top freshman in the country heading in the 2007 college season by BA, Chisenhall and a teammate were dismissed from the University of South Carolina after stealing $9,600 worth of cash and property from the school, including $3,100 in cash from then assistant coach Jim Toman's office. Chisenhall faced one charge each of burglary, grand larceny and theft from a door room, but all of the charges were later dropped. The sweet swinging lefty headed to the junior college ranks in 2008, which is why he's eligible for this year's draft.
Capable of playing third and the corner outfield spots (he can pitch too), Chisenhall has a great approach and is a devastating pure hitter, having batted third in front of uber-prospect Justin Smoak as a freshman in his short time at SC. A player with his ability should overwhelm pitching at the juco level, and that's exactly what he's done, batting .493-.570-.970 with 14 doubles, 3 triples, 14 homers, 43 RBI, 2 SB and only 4 strikeouts in the Bulldogs' first 21 games. If he was at SC, and you knocked 150 points off his line across the board, he'd still be in the conversation for the first overall pick in 2009 (he'd only be a sophomore this year). Where will he get drafted in '08? I have no idea, because who knows how much weight teams will place on his past. One thing is clear: he's a first round talent.
Nick Fuller, RHP, Walters State (TN)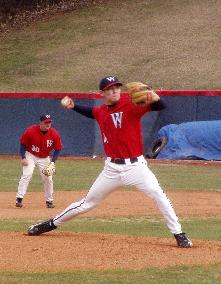 Remember how I said that Chisenhall and a teammate were arrested for stealing a bunch of stuff from SC? Fuller's the teammate. He faced three charges each of burglary and grand larceny, but like Chisenhall he got off scot free after the charges were dropped. Draft eligible because he's with a 2-year institution, Fuller was the Devil Rays' third round pick out of high school in 2006, but he choose not to sign and headed to SC, where he was the 4th best incoming freshman according to BA.
Fuller's been the unofficial ace of the Senator's staff, sporting a 46.1 IP, 41 H, 25 R, 23 ER, 21 BB, 48 K line that would look even sexier if he hadn't been left out there to bite the bullet a few times this year. He has electric stuff, including a mid-90's fastball and a lethal slider that he's still working to gain consistency with. His biggest physical drawback is a violent, max effort delivery that already shelved him with a minor arm injury in high school. Fuller may have to move to bullpen because of his motion, and he's drawn Brad Lidge comps in the past. Again, I have absolutely no idea where he's likely to get drafted, but he has top three rounds ability.
Jason Jarvis, RHP, Lincoln (Indy)
BA rated Jarvis as the best high school pitching prospect in the state of Arizona prior to the 2006 draft, and the second best pitching prospect in the state overall behind Mark Melancon. Jarvis scared away potential employers with lofty bonus demands (the Angels took a 25th round shot-in-the-dark), and he headed to Chandler-Gilbert CC after decommitting from San Diego. Jarvis then transferred to Arizona State midway through his freshman season, and immediately became the best arm on the Sun Devils' staff. He took over closer duties as soon as he arrived in Tempe, putting up a 27 IP, 29 H, 12 R, 11 ER, 4 BB, 19 K line while setting a school record with 11 saves. Jarvis blew a four run 9th inning league against UC Irvine in the College World Series, and the Anteaters went on to eliminate ASU in extra innings.
Jarvis was off to an inauspicious start to his sophomore year, allowing 6 hits and 1 run against a 5-0 K/BB ratio in 3.2 IP over his first 6 appearances. He was ruled academically ineligible on March 13th after cheating on an assignment in an online music course. He cheated on an assignment in an online music course. He cheated. On an assignment. In an online music course. Like every good student he blamed it on a learning disability and ridiculed the school's administration, only he did it through a press release on his website (check it out, it's good stuff). Jarvis dropped out of school and petitioned MLB for entry into the 2008 draft, which was granted to him on March 20th. He signed on with the Lincoln Salt Dogs of the independent American Associate to gain exposure, and has yet to appear in a game for them.
Jarvis typically operates with a low-90's fastball, a hard slider and a good changeup. He's a durable workhorse and holds his stuff into the later innings when he starts (he pitched out of ASU's bullpen to fill a need). There have been maturity questions about Jarvis dating back to high school, and his college experience only reinforces those questions. Jarvis has a good arm and is a solid top five rounds talent, but he's a classic case of a guy with a million dollar arm and a two cent head. Well, that might be a bit extreme; perhaps a five hundred thousand dollar arm and a two cent head is more accurate. At least he isn't a criminal.