When A.J. Burnett throws six innings and makes one mistake, the only thing to do is tip your cap to him. The Yankees were simply outpitched last night, and as the old baseball adage goes, good pitching will beat good hitting nearly all the time.
But there are some takeaways from last year's night, and most of them concern Mike Mussina. Submitted for your approval is a rather basic pitch graph of Mike Mussina's night. It tracks the velocity of his pitches along the X-axis vs. the break of his pitches according to MLB's Advanced Gameday application along the Y-axis.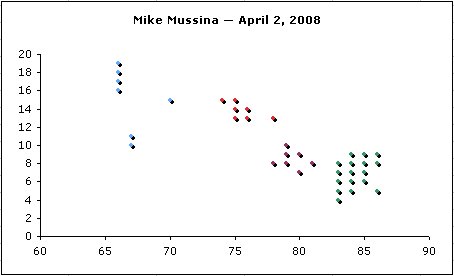 The colors represent Mussina's pitch repertoire. The green are his fastballs; the two shades of red are his breaking pitches; and the blue dots at the slow end of the slow spectrum are his knucklecurves. To really get a sense of how slow Mussina was throwing, Gameday kept calling his low-80s fastballs change-ups. Those, my friends, were not changeups.
And therein lies the problem. Mike Mussina threw fastballs for nearly 60 percent of his pitches. He threw about 10 each of his breaking pitches. While the break on his fastballs is encouraging, he doesn't have enough gas to throw so many fastballs. He hit 86 mph five times but mainly sat around 83 and 84 with his fastball. Major League hitters are going to tee off against him.
Meanwhile, Mussina again seemed to pull his routine on the mound when Giambi made an error and Moose didn't cover first base in time early in the game.
In the end, Moose's results are serviceable. He gave up 3 earned runs in5.2 innings, but he put 10 runners on base and struck out only 2. While relying on his low-80s fastballs, Mussina will not be so lucky in the future.
Game Notes: Alex Rodriguez is very good at hitting baseballs. I'm very happy to see him back on this team for the long haul…Derek Jeter's fourth inning effort in turning an error into an out changed the dynamic of the game. That was sloppy baserunning by a usually reliable baserunner…A few commenters in the game thread bemoaned Joe Girardi's decision to keep Giambi in the game to face Brian Tallet in the 7th. When Giambi's blast in the 9th fell a few feet short of tying the game, no one was complaining, and had it been warmer or windier in the right direction, the game heads into the 10th a tie. I understand the ideas behind playing the matchups, but in a close game, losing Giambi's bat isn't an option. He'll always be more of a threat at the plate than Shelley Duncan or Morgan Ensberg.