While all of you are struggling with the heart attack induced by my admittedly mean April Fools prank post, here's a sight from the aborted Opening Day that isn't a joke. The Yankees are counting down the games left in Yankee Stadium right on the scoreboard. Take a look: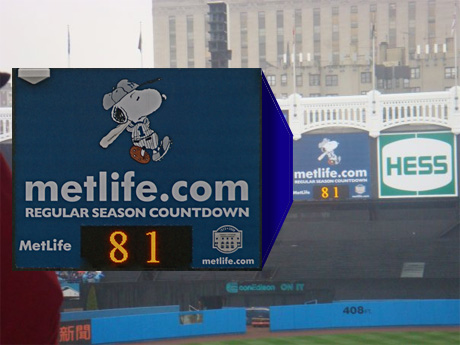 To me, there's something a little bit off-putting about this giant countdown. We know Yankee Stadium's days are numbered, and we know this summer will be filled with tributes to the legends and myths that dot Yankee Stadium history. But do we really need to have the end of the House That Ruth Built rubbed in our faces like this for the next six months? Fans can't miss the new stadium, and now they can't miss this sign either.
Thanks to RAB regular Adam for the shot from today's postponed Opening Day.