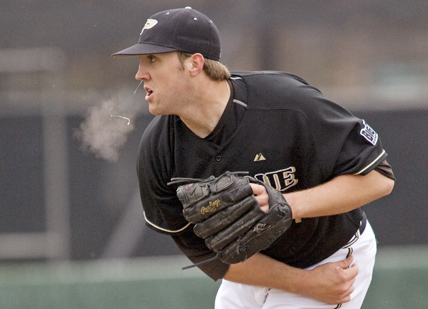 Purdue RHP Josh Lindblom and his snot. Photo taken from Baseball America's front page sometime last week.
It's been a while since we talked draft, so here's some bullet point style draft goodness:
MLB tweaked some of the draft rules a bit, so now failure to sign a second-round pick results in a compensation pick after the second round the following year. Previously the comp picks were awarded one spot after the original selection was made. The Braves and Red Sox saw their comp picks for the unsigned Josh Fields and Hunter Morris, respectively, drop 18 spots thanks to the rule change (haha). Fifth year seniors can no longer sign as free agents before the draft as part of the rule changes.
Florida State catcher Buster Posey is shooting up draft boards thanks to his .470-.573-.848-1.421 line with 33 XBH and a 12-38 K/BB ratio in 44 games. He's joined Pedro Alvarez, Tim Beckham, Aaron Crow and Brian Matusz amongst the super elite of the draft class, and Tampa is giving him a ton of consideration for first overall. The problem I see is that Posey projects more as an above-average regular than a superstar, and it's not a given that he can stay behind the plate in pro ball. Not exactly the typical 1st overall pick profile.
One kid gaining some helium as the draft approaches is CF Matt Marquis from Immaculata High in Somerville. He's a manchild, checking in at a rock solid 6'2″, 215 lbs, and he sports a 2.115 OPS as of April 28th. A star at the Jack Cust Baseball Academy, you can watch him launch some bombs at The Trop here. He's not quite first round material yet, but he's working himself into the top 2 or 3 rounds.
Colby Shreve, a RHP at the Community College of Southern Nevada, came down with what was initially diagnosed as a ligament tear in his elbow, but that was downgraded to a strain folloing a second opinion. The top JuCo prospect heading into the year by BA, Shreve avoids TJ surgery and will go with a rest and rehab program that will take about two months. Teams will still be weary because of the injury and strong commitment to Arkansas, but he can be bought out. Look for him to drop.
Sonny Gray, the top high school prospect in Tennessee, will miss the rest of the year after severely spraining his ankle running out a ground ball. A first round talent on the mound, Gray owns one the best breaking balls in the draft, and will start to slide as his latest ailment only reinforces questions about his durability.
While on the subject of injured pitchers, Winthrop RHP Alex Wilson missed the 2008 season after having TJ surgery. BA pegged him as the 11th best college sophomore at this time last year. Teams are going to back away because of the injury, and Wilson is probably best served returning to school for his senior year so he can build up his stock, but why wouldn't you take a flier on him in say, the 15th round?
The University of Georgia sports two surefire first round picks in SS Gordon Beckham (no relation to Tim) and the aforementioned Josh Fields (no relation to the ChiSox player). Beckham is the frontrunner for the Dick Howser Trophy (baseball's Heisman) because of a .427-.538-.883 line and a Division I leading 20 homers. He makes perfect sense for the Twins at 14, but he might not last that long. Fields returned to school for his senior year to boost his draft stock, and he's done that with an exclamation point: 22.1 IP, 5 H, 1 R, 0 ER, 11 BB, 42 K and 12 saves. He's only working one inning stints, and that's certainly a drawback. I can totally see the Mets popping him at 18, then sticking him in their bullpen by August.
RAB fave Keith Law notes that hulking prep 1B Eric Hosmer and advisor Scott Boras are floating $7M bonus demands. Law also mentions that Pedro Alvarez has an $8.6M asking price. I can see the Pirates snatching Alvarez at #2 overall in an attempt to rid themselves of the "cheap" label that's haunted them, but Hosmer has a chance of dropping out of the first round all together. A 3-4 combo of Hosmer-Montero would be some scary shit for A-ball pitchers.
Here's some middle round guys to keep in the back of your mind (in no particular order): Louisville 3B Chris Dominguez (draft-eligible sophomore, .374-.434-.670 with 14 homers in 44 games), Purdue RHP Josh Lindblom (31.2 IP, 25 H, 9 R, 9 ER, 9 BB, 36 K, and he's got a HUGE arm), Cal RHP Matt Gorgen (31 IP, 26 H, 11 R, 8 ER, 13 BB, 35 K, he's a David Robertson-type reliever), UC Irvine RHP Scott Gorgen (Matt's identical twin, 74 IP, 43 H, 21 R, 17 ER, 2 BB, 82 K, tough as nails), and New Orleans SS Johnny Giavotella (.401-.510-.711 with 25 XBH and a 10-37 K/BB).
You may have heard that the top 200 draft prospects will now be subject to steroid testing prior to the draft. I know steroids are bad, and yes more testing is a good thing, but I think MLB overstepped it's boundaries here. These players are amateurs and in no way are affiliated with major league baseball until they sign a professional contract, why should they be subject to testing under MLB's rules? And why just the top 200 prospects? Why should Andrew Brackman be tested while Adam Olbrychowski isn't? I dunno, it's a step in the right direction, but you're invading a kid's privacy when he's not bound by a Collective Bargaining Agreement. Maybe he's just a kid who succumbed to peer pressure. Teenagers make a lot of mistakes.
The draft goes down on a Thursday this year, June 5th to be exact, and will again be televised by ESPN. I suspect we'll see the usual cast of characters: Ravech, Gammons and Phillips, with guest spots by Law and one of the BA guys. If ESPN wants to draw some attention to the broadcast, they should get Erin Andrews involved. Just look at how well she handles that microphone.