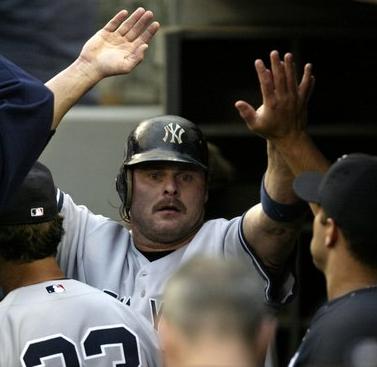 Remember April? Man, we had some heated arguments back then. Cano wasn't hitting, Giambi wasn't hitting, Damon was on and off, Jeter wasn't off to the hot start we saw the past two years. Two guys in particular, though, took the brunt of the offensive criticism: Giambi and Cano. Each time they came to the plate and failed, people were clamoring for them to find a seat on the bench. There was even a contingency of Yanks fans who wanted to see Giambi released.
Good thing they didn't get their way.
On the month of May, Giambi is hitting .339/.481/.726. That is absolutely insane. Each of those three numbers represents the top spot on the Yankees for the month. On the season, he's at .244/.393/.556, a more than respectable line that, if nothing else, shows the effects of his abysmal April.
Before the season started and during the first few weeks, some Yankees fans were up in arms about Giambi. DFA him! He won't be able to help this team! Even as we got into May and the Giambino started hitting a bit better, especially for power, the detractors were still out. At this point, though, to rail against Giambi seems a bit foolish, eh?
(Then again, guys like Jamal looked the fool when he continually defended Giambi in the early going. Baseball's a funny game like that.)
The thing is, we've seen this before. I present to you the year 2005. Giambi was coming off a 2004 defined by a stomach parasite and a benign pituitary tumor. But he was healthy in the spring, and was ready to get back into the game. Problem was, he was no good early on.
Prior to June 15, he had just three home runs. On May 22, he was hitting .215/.368/.346. Yankees fans wanted him out, and wanted him out fast. Even as we moved into late June and his OBP rose to over .400, people still weren't happy with Giambi. The stigma of steroids still surrounded him, and I heard many a person talk about how he can't compete without the juice.
Then a funny thing happened in July. He started hitting balls out of the park. Two against the Orioles on the 4th of July. One the next day. After an off-day, one on the day after that. One against Boston on July 14, in an 8-6 win. Two on July 20, two on July 21. By the end of the year, that Giambi who had a slugging percentage under .350 on May 22 finished with a line of .271/.440/.535. The complainers had shut up.
(He hit .282/.463/.655 from July on in 05. Just disgusting numbers.)
This year, it appears his resurgence is coming along a bit quicker. He's been one of the drivers of the Yankees offense, which is finally starting to look like we expected from the get go. And, most importantly, he's hitting well enough to compensate for his poor defense at first base. There are no guarantees that he keeps it up — as I said, baseball is a funny game like that — but Giambi has shown that he can in fact contribute to the 2008 Yankees.
Hopefully, Girardi's veteran rotation will help keep Giambi — as well as Matsui and Damon — fresh throughout the year. Matsui and Giambi in particular have been integral in molding the offense. With A-Rod back and Jorge on the way, maybe we can start to put up some more crooked numbers.