Ever think about taking a hike from the Bronx out to Flushing? Of course you didn't. Only a deranged person would conceive of such an idea. I kid, of course. Sam Borden, former beat reporter for some tabloid paper we don't care to mention (sorry, Mark!) and current columnist for the Journal News, is taking the expedition this Friday during the Yanks-Mets doubleheader. It's about a 10 mile walk, and Sam plans to take it all by foot.
He's taking donations for the American Cancer Society. You can head on over to his page to make a donation. He's looking for $4,000, and is nearly 3/4 there, with 31 donations totaling $2,924. If you want to walk along with Sam, he has instructions on the page. Below is a map of the route: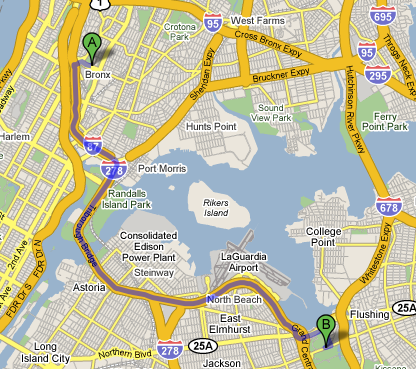 It's a good cause and a neat idea. So if you're thinking about blowing a few bucks in the next few days, this is as good a way as any.