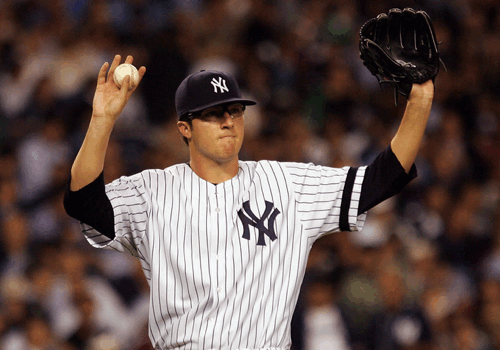 Chicks dig the specs. (Photo via Getty Images)
I'm not going to blindly praise Phil Hughes for his start tonight. Everyone watching the game saw flashes of Phil's potential, and they saw him struggle a bit with two strikes. But I'm not going to irrationally slam a 22-year-old who has dominated the minors and can get Major League hitters out. Right now, Phil Hughes is living somewhere in that not-so-happy medium between the two extremes.
After missing most of the season, at the big league level at least, with a rib injury, Hughes made a start on Wednesday in place of Darrell Rasner or Sidney Ponson or whatever crappy fill-in the Yanks would have had penciled in tonight. He threw 89 pitches in four innings, 57 of them (64 percent) for strikes. He allowed one earned run on four hits and two walks and struck out four. Clearly, the K/9 IP is good. Clearly, the walks are a bit too high.
Hughes' problem tonight was one that a lot of young pitchers have as they break into the Majors: He couldn't put hitters away with two strikes. This time, instead of falling behind and walking his opponents, as he had been doing in April, he didn't get too fancy. He kept pounding the zone with his cut fastball but couldn't drop in the curveball often enough for a strike. He threw too many pitches early on, but after a 33-pitch first inning, he needed just 56 to get through the next three frames.
I'm not going to gloss over Hughes' outing and proclaim him the best thing since sliced bread. But right now, he had the stuff to get outs, and he's still one of the youngest starting pitchers in the Majors. If he slots in to the back end of the rotation next season and produces, the Yanks, with Wang, Joba and some other pitcher in front of him, will have no complaints. That is, of course, a big "if," but no one will ever convince me to give up on a 22-year-old with this much promise.
Meanwhile, the Yanks won again, and I get the distinct feeling that the team is pulling off a "too little, too late" run here at the end of the season. Since returning home from the West Coast, they've won four of six against October-bound teams, but in the end, they'll miss the playoffs anyway.
As the Stadium's run draws to a close, one night after Derek Jeter broke the record for hits at Yankee Stadium, A-Rod became the second player to hit 35 home runs in 12 seasons, tying some guy named Babe Ruth. While the home run didn't really count because A-Rod hit it and the Yanks were already up by three runs, the ghosts of Yankee past were out in full force again tonight.
On the pitching side, as the Yanks' bats didn't wake up late, the bullpen was again fantastic. Brian Bruney, Phil Coke, Joba Chamberlain and Edwar Ramirez combined for five innings of two-hit ball. Coke again looked stellar. He does a fantastic job hitting the target. Joba looked dominant, striking out one and throwing 10 pitches in an inning of work. With such a low pitch count, he should have thrown the ninth too, but such are the mysterious ways of Joe Girardi. All in all, this was a solid win for a team playing for third place.