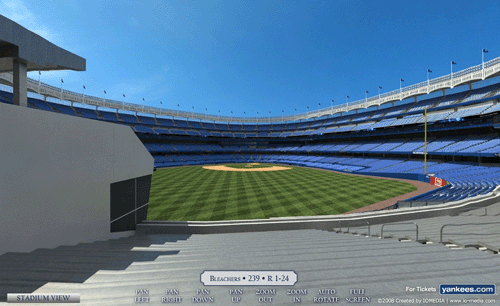 Via New York Magazine's Daily Intel blog comes the lovely news about the bleachers at new Yankee Stadium: A whole bunch of unlucky fans won't be able to see because the restaurant will be in the way. As you can see from the above screenshot, that pesky restaurant is going to obscure the sight lines.
Now, we've heard about this problem in the past, but the existence of that oh-so-fun Stadium seat selector confirms the bad news. Folks sitting in the some bleacher sections won't be able to see the entire outfield. Fans in left won't have a view of right, and fans in right won't have a view in left.
While the impacts only a few of the bleacher denizens — the people sitting in the sections adjacent to these bad sections can still see — a significant number of bleacher seats in a new stadium will have obstructed views. But, hey, at least the people in the center field restaurant will be able to see. Right?
After the jump, the view from right field.