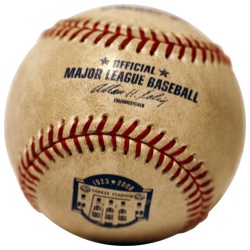 This Saturday, Guernseys will be selling off a whole bunch of Yankee Stadium memorabilia. The Manhattan-based auction house had announced the auction in September, but this weekend, they landed a gem of a baseball.
The man behind the final home run ball controversy has opted to sell the ball, and he'll do so this weekend at Madison Square Garden. Steve Harsman expects to fund his children's education through the proceeds from the ball, but in today's economy, he probably won't get the hundreds of thousands of dollars that collectors have recently shelled out for high-profile baseballs.
The ball's auction page includes quite the heart-warming tale about Harshman. Check out the Yankee Stadium catalog here, and make your way to MSG this weekend if you find yourself with money to spend on Yankee Stadium memorabilia.