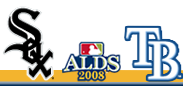 After fending off the Indians, Tigers, and Twins in three consecutive days to make the playoffs, the White Sox face off against the Rays, who are coming off a 97-win season, or the most wins in franchise history by 27. You have to admire Chicago's entrance. To beat three different teams in three straight days is quite an accomplishment. Then again, none of that would have been necessary had they not been swept by the Twins a week ago.
On the pitching end, former Yanks Javy Vazquez goes for the Sox. He didn't have a great year, posting a 4.67 ERA in 208.1 innings. He did strike out 200, though, while walking 71. His WHIP was 1.32, which is his highest mark since 2000. James Shields gets the call for the Rays. He tossed 215 innings this year to the tune of a 3.56 ERA. He's not a strikeout artist, but his 4:1 K/BB ratio (on the nose) makes him a formidable starter.
The game starts at 2:30, so right about nowish. If you're looking for a more Yankee-centered discussion, check out the last post on the Matt Holliday rumors.
Lineups:
Chicago
1. Orlando Cabrera, SS
2. Dewayne Wise, LF
3. Jermaine Dye, RF
4. Jim Thome, DH
5. Paul Konerko, 1B
6. Ken Griffey Jr., CF
7. Alexei Ramirez, 2B
8. A.J. Pierzynski, C
9. Juan Uribe, SS — yeah, I dyed me goatee, too — when I was 17
Tampa Bay
1. Akinori Iwamura, 2B
2. Bossman Junior Upton, CF
3. Carlos Pena, 1B
4. Evan Longoria, 3B
5. Carl Crawford, LF
6. Cliff Floyd, DH
7. Dioner Navarro, C
8. Gabe Gross, RF
9. Jason Bartlett, SS