I could really use a new couch.
Ah, Black Friday. Nothing beats waking up early and wading through a crowded store stuffed with insanely cut-throat bargain-seekers. Luckily, in this wired day and age, we have the Internet for all of our shopping needs, and nothing beats MLB.com's shop for things you don't need and never knew existed.
So in the spirit of Black Friday, let's take a whimsical look at some of the — for lack of a better word — stuff that you can buy decked out in Yankee memorabilia.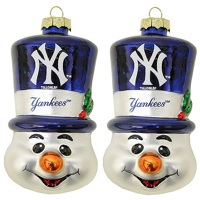 In the spirit of the season, let's start with these slightly menacing snowmen ornaments. Apparently, psychotic snowmen are Yankee fans. The nutcracker is another holiday classic, and he too is a Yankee fan. I guess the production company couldn't get the rights to use George Steinbrenner circa 1977 for the face. For the Mo worshipers among us, it's now possible to add Mo's visage to your Christmas tree in the form of an ornament four-pack. What could be more comforting than Mariano watching over your family? I'm digging the Joba Chamberlain action figure ornament too, but I'm not sure what's going on here.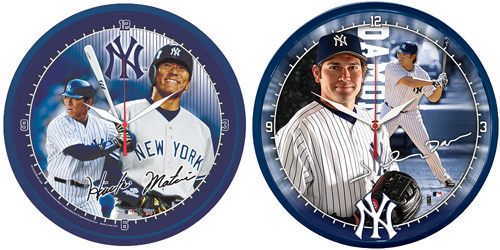 Moving into the realm of slightly creepy Yankee gifts, we have face clocks. Doesn't everyone want Hideki Matsui and his handsome mug running the bases intently around their clock? Or how about Johnny Damon's smiling face staring out into the living room? His eyes will follow your every move.
No home is complete without the Chien-Ming Wang model truck or the vinyl, all-black figurine of Alex Rodriguez. At least, I think that's Alex Rodriguez. It looks more like a cartoon version of The Phantom in a baseball uniform than it does A-Rod.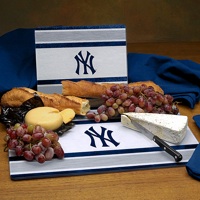 From the "Things You Never Thought You Needed" category comes this stylish Yankee cutting board. Perhaps, you'd rather dress your pet in a Yankee varsity jacket or outfit your Yankee pool table with a pinstriped billiards lamp. Maybe you want a nearly three-foot-long megaticket, a larger-than-life reproduction of a seminal Yankee ticket. Does anyone buy this stuff?
Personally, I like the wooden Yankee bedframe. This product only comes in Twin size. I guess the manufacturers figure that if someone's sleeping in it, they won't need to worry about sharing the bed any time soon.

Finally, we end with my personal favorites: a Yankee hat optical mouse, a portable grill shaped like a keg and the portable Yankee refrigerator. What more could anyone want besides life, decorated with that ever-present interlocking NY?