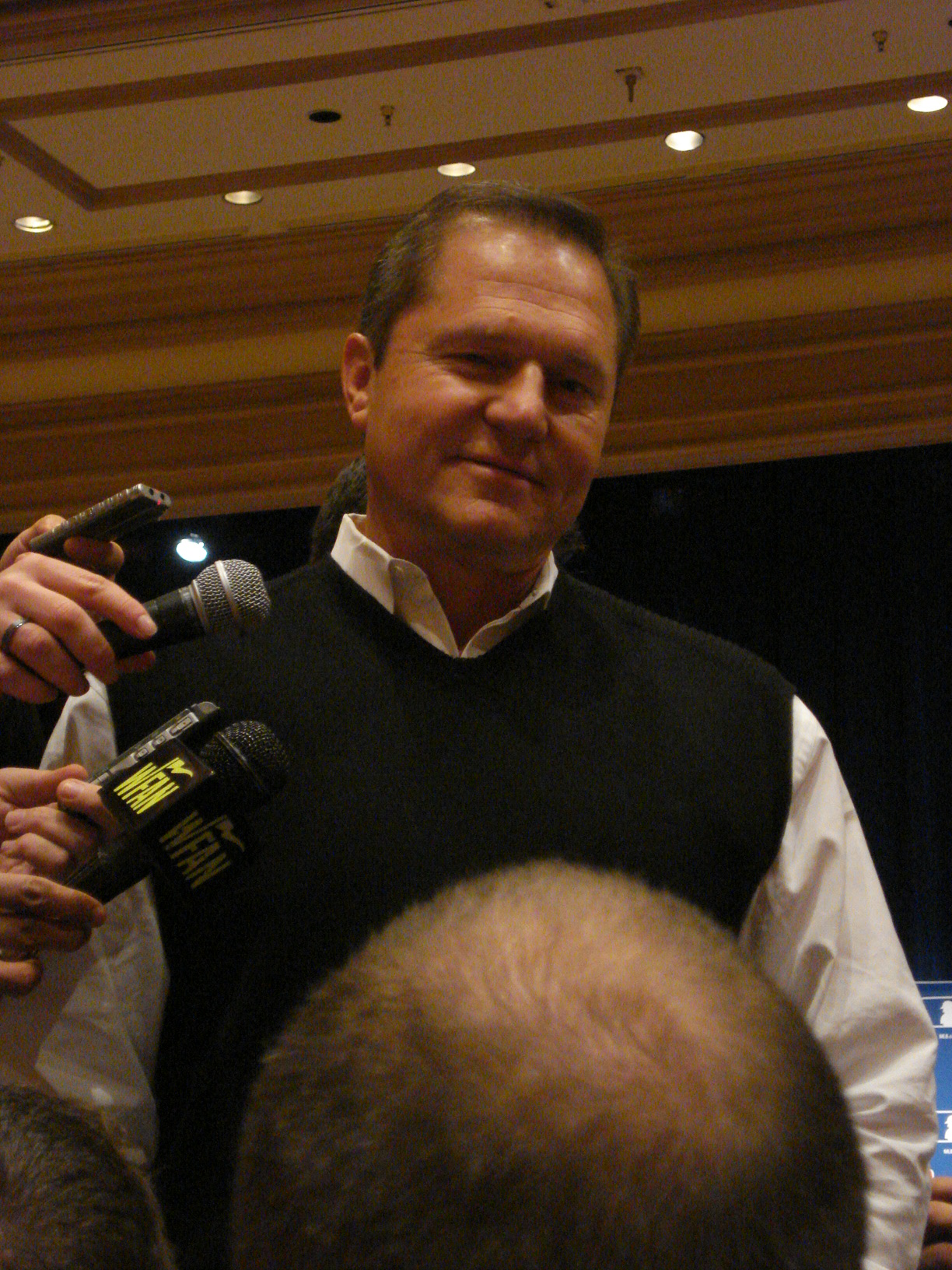 So Joe and were just sitting around here in the press room, surfin' the net and the such, when Scott Boras walks by followed by an army of reporters. I'm not kidding, there were about 40 or 50 people following him. He marched to the front of the room, stepped up on the little camera stage and launched into an impromptu press conference. Out of nowhere the guy storms into the room and commands everyone attention; it was pretty impressive.
Here's the notable stuff he said:
When asked about how many teams have expressed interest in Manny Ramirez, he estimated that "nine or ten teams can use a three-four bat," which wasn't the question.
Boras feels the Sabathia deal "creates a path" for the remaining pitchers on the market, specifically citing Derek Lowe. He said Lowe's received a ton of interest, ditto Oliver Perez, the "26 yr old lefty who's pitched in big games the last few years."
When asked if Jacoby Ellsbury would be open a Pedroia-esque long-term deal, Scott didn't answer the question, instead noting that if it gets to that point his job "will be easier because it's mid-January."
He called the market for Felipe Lopez very good, noting that teams recognized his versatility, "his ability to start at second or play the outfield." Lopez has played 17 games in the outfield in his eight year career.
Joe Crede's recovery from his back injury is going well, he's going to start "skills drills" in January. Boras also called Crede an All-Star 3B, which made me laugh until I released that he was selected as a reserve this year. The guy hit .252-.323-.463 in the first half; how much do you think Boras paid Tito to take him?
When asked if anyone other than the Sox have made an offer to Varitek, he went off into a ramble about how he wouldn't get into the number of teams that have inquired.
He believes Eric Gagne will get a closer's job somewhere. Good luck with that.
Mark Teixeira was the hot topic, so he gets his own little section:
He mentioned that he has received several concrete offers for Tex's services and is currently in the counteroffer phase. It was the exact same question that he had ducked about Manny.
When asked if the Nats losing 102 games would turn Tex off from signing with them, he specifically mentioned Pudge signing the Tigers the year after they lost 116 games as an example of players doing it before. He also noted that it would be nice to play for a team with the first overall pick in the draft, but he didn't mention Steven Strasburg (his client).
Boras doesn't expect the Sabathia contract to eliminate the Yanks from the running for Tex, indicating that the Yanks have historically shown the desire to improve the team by any means necessary.
He mentioned all of Tex's skills (hits for high avg, gets on base, hits for power, Gold Glove defense) and noting that the only comparable player on the market next year was Matt Holliday, and that Prince Fielder won't hit free agency until after 2011. He's already laying the groundwork for the future.
Someone also asked Boras if there was any conflict of interest since he was representing so many high profile players. He said no of course, and mentioned that he has a 15 person staff here. It was pretty cool, you can tell he loved the attention.