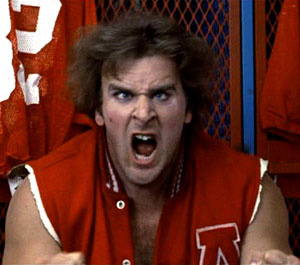 Those geeks who live in their mothers' basements have done it again. They've gone and made another stat, which clearly makes everyone enjoy the game less. Plus, they don't even watch baseball! They just play with their Excel spreadsheets. What happened to the days when men were men? We judged baseball players on what we saw, not on what some computer told us. Someone get Billy Beane on the line. I have to give him a piece of my mind for writing Moneyball.
Silliness aside, I just got through reading this article by Dave Cameron explaining wOBA. Before you dismiss this statistic, I suggest you read it as well. Then read this article by Tom Tango, the dude who developed the statistic.
At this point you might find yourself saying that the last thing the baseball world needs is another statistic. I've heard plenty of people, including a beat writer or two, say the same thing. However, I think that's missing the point. If we find a better way to measure baseball production, why shouldn't we use those stats when making our arguments? You might not like Baseball Prospectus and their not-so-up-front formulas, but wOBA is spelled out pretty clearly. So is its intention:
OPS, as you probably know, significantly undervalues the ability of a hitter to get on base. It treats a .330 OBP/.470 slug as equal to a .400 OBP/.400 slug, when the latter is more conducive to scoring runs. wOBA gives proper weight to all the things a hitter can do to produce value, and is a more accurate reflection of a hitter's value.
Of course, getting people on board with this is the problem. Many are comfortable saying Nick Swisher had a .219 batting average, therefore he sucks. No argument, no matter how well articulated, could bring this type of person around. We've always used batting average, so why change now? wOBA is for the fan who understands that just because things used to be done a certain way does not mean they should always be done that way.
What makes wOBA easy is that it's scaled to OBP. League average is usually .335, plus or minus 5. So you know if a player is doing well or not without comparing him to other players. The average is already set to the league average OBP. Here is the 2008 Yankees leaderboard. As you can see, A-Rod wins by a mile.
We're not going to shove this stat down your throat. Not by any means. But when we get into an argument over player performance and stats come into play, I'm probably going to defer to this.