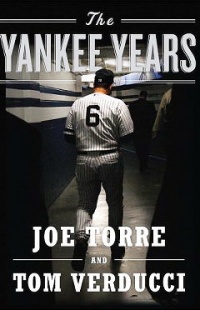 The Torre book drama started yesterday and has been a steady source of conversation into today. Problem is, few if any of us have actually read it. Over at SI, they have an excerpt from the book which revolves around late October 2007. Torre obviously feels betrayed, but if you can look past his "my flaw is that I'm the good guy" rhetoric, you can see that the Yankees had come to a decision, and they intended to follow through on it. One year, take it or leave it. Torre left it, and that was that. Well, until this book was written, that is.
Torre apparently did pitch an idea to Cashman, and to an outsider it doesn't sound half bad:
"Cash, I have an idea. What about a two-year contract? It ­doesn't even really matter what the money is. Two years, and if I get fired in the first year, the second year is guaranteed. But if I get fired after the first year, I don't get the full amount of the second year, just a buyout. The money doesn't matter. I mean, as long as it's not just something ridiculous. It's not about the money. It's the second year."
Apparently, though, the Yankees were not willing to do that. Torre claims that, based on a post-meeting encounter with Brian Cashman, that the GM never even floated the idea to management.
Cashman looked at Torre oddly, as if this were something new. "Uh, I really ­didn't understand it," Cashman said. "Remind me, what was it again?"
Cashman then went back into the room, supposedly approached the Steinbrenners with the idea, and emerged less than a minute later with a response in the negative. Torre's quote on this: "I'm thinking, Well, s—! He never told them!" I'm not so sure it's that simple. From the beginning, it seemed like the Yankees knew what they wanted, and Torre knew what he wanted. The Yankees gave Torre their firm offer, and he deemed it unacceptable. They apparently were not keen on his idea.
I imagine everyone in the Yankees front office was in a tight spot during this time. Torre was a beloved manager of 12 years, an unprecedented run in the Steinbrenner Era. He wanted to come back. The Yankees were only interested under their terms. I'm not sure I can fault them on that. Argue if you want about the manner in which it was handled. But if the Yankees only wanted Torre back under their terms, and Torre did not accept those terms, well, that seems pretty ordinary to me.
You can hear more about the book on the MLB Network…right about now. Matt Vasgersian will interview Tom Verducci on Hot Stove at 7. So you can check that after or while you read the excerpt.
This is your open thread for the evening. The NHL has a night off after the All-Star game, the Rockets are in the Garden, and the Nets are out on OK City. For you Big East nuts like me, you can catch Marquette at Notre Dame at 7 on ESPN.