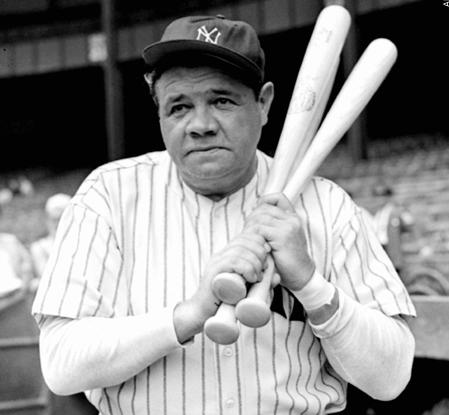 Yesterday marked the 89th anniversary of the Yanks' acquisition of George Herman "Babe" Ruth from the Red Sox, perhaps the single biggest player transaction in baseball history. All told, the Bombers sent Sox owner Harry Frazee $125,000 in cash, as well as three annual payments of $25,000 at 6% interest in exchange for Ruth. The Yanks also loaned Frazee $300,000, accepting the mortgage to Fenway Park as collateral.
Fresh off a recording setting 29 homerun season in his final year with the Sawx, Ruth became the Sultan of Swat as we know him immediately after the trade, clubbing 113 homers in his first two years in pinstripes. The team went from a 701-780 (.473) record in the ten years preceeding Ruth's acquisition to a 924-670 (.580) record in the ten years following the pickup. Ruth finished his career with a .342-.474-.690 batting line, a 207 OPS+, 714 homers, 2,217 RBI, 1330-2062 K/BB ratio, a .518 wOBP, and seven World Titles. He's easily the greatest player in baseball history based on how he performed in comparison with the rest of the players in his era.
Thanks Harry. (h/t UWS)
Here's your open thread for the night. The Rangers take on Montreal at home, the Knicks are off, the Isles are off, and the Devils suck. Talk about whatever else is on your mind, just be nice.