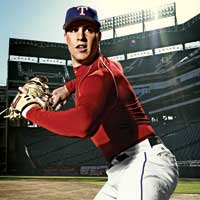 After the saga of this off-season, most people know the story of Mark Teixeira. I'm not sure how accurate this part is, but apparently before the 1998 draft the Red Sox circulated some rumors about Tex, saying he wouldn't sign. They then used their ninth-round pick to snatch him. Not pleased with how the team handled matters, Teixeira opted to attend Georgia Tech.
He thrived in college, winning the Dick Howser Trophy for baseball player of the year. Strange, though, that he won the award in 2001. Teixeira didn't play much that year. I first read about this injury in an old copy of Men's Health which, thanks to the Internet, is archived here:
In the sixth game of the season during his junior year at Georgia Tech, Mark Teixeira's cleat got stuck in the turf as he chased a fly ball. The broken ankle that resulted required surgery and 3 months of rest.
Actually, according to Georgia Tech's 2001 game logs, it was the seventh game of the season. That was in February. He didn't return until May 11, but he did it with a bang: 3 for 4 with a double and 2 RBI. He played out the rest of the season as a DH before the Texas Rangers selected him with the fifth overall pick.
Teixeira on the injury:
"My whole right leg basically lost its muscle. I couldn't walk, I felt lethargic, I gained 10 pounds. You go from being on top of the world one minute to not knowing if you'll ever be the same the next."
…
"I tried to keep the big picture in mind, and that was to be a big-league baseball player. So you have to mentally break through the pain, the fatigue, the frustration," Teixeira says. "From the time I knew I had a chance to be a big leaguer as a teenager, my motto has been, 'If someone is better than me, fine. But no one is going to outwork me.'"
According to the MH article, Tex recovered by implementing the following training regimen: "an hour of ankle-only rehab moves, 90 minutes of total-body conditioning, and batting and fielding sessions to get back into baseball shape." Of course, it goes onto say that it took "almost two years to return to his pre-injury form." Considering he OPS'd .995 between A+ and AA in 2002, I'd say that's a bit of an overstatement — and that's just one year.
You can discuss this, but you don't have to because this is the open thread for the evening. I'm guessing you're going to want to talk about Florida vs. Oklahoma. The Knicks are in Dallas, the Islanders are in Calgary, and the Devils have Atlanta at home.