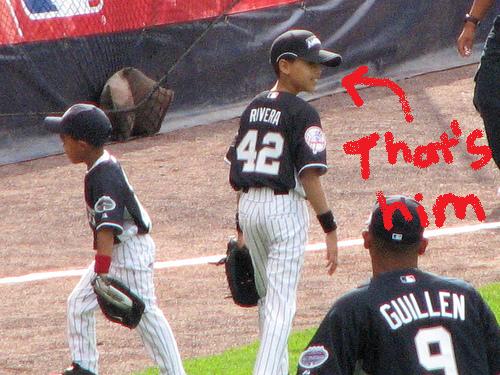 Melvin Croussett | LHP
Background
Born and raised in Santa Domingo, DR, Croussett is the child of the world's first female areo-nuclear chemical engineer and a world record setting shotputter/javelin thrower. His talent for throwing a baseball was obvious at an early age, as he used to ward off rodents at his uncle's sugar cane farm by throwing softball sized rocks at them. He initially worked at a distance of about 20 feet at age five, but eventually reached as far as 430 feet by age thirteen. Yankees' scouts first noticed him when he picked off a bandicoot at 325 feet from the back porch without getting out of his chair or spilling his beer.
After one workout at the Yanks' Dominican academy, the Bombers offered Croussett a four year Major League contract with $7,500,000 guaranteed. Croussett refused, instead agreeing to pitch pro bono with the strict stipulation that the Yanks donate the $7,500,000 they would have paid him to The DREAM Project. They instead donated $10,000,000 to the charity.
Pro Career
Debuting with one of the Yanks' Dominican Summer League squads at age 18 in 2007, Croussett was limited to relief duty because he wanted to give the other players a chance to develop as starters. All told he made 17 appearances on the year, throwing 38 innings. He allowed just 22 hits, but walked 25 batters because the league strictly enforced a 6-inch by 6-inch strike zone whenever he pitched. Croussett struck out 55 in those 38 innings, finishing with a 1.42 ERA & 1.24 WHIP. He was the recipient of the first annual Melvin Croussett Award, an all-encompassing award given to the league's Most Valuable Player, Best Pitcher, Best Humanitarian, and Most Handsome Player. He was also given the nickname "Baby Mo," and received a special exemption from Rachel Robinson (Jackie's widow), allowing him to wear number 42. See photo above.
Croussett returned to the Dominican Summer League in 2008 by choice, as he transferred his visa to an aspiring brain surgeon wishing to study in America. He again made 17 appearances, throwing just 28.1 IP this year because of the new mercy rule, which the league created specifically to level the playing field whenever Croussett pitched. Now held to a 3-inch by 3-inch strike zone, Croussett allowed 21 baserunners (12 hits, 9 walks), striking out 47 in the process. He finished with a 0.64 ERA & 0.74 WHIP, winning his second Melvin Croussett Award and first Noble Prize for his work concerning the transition states of chemical reactions using femtosecond spectroscopy.
Scouting Report
Croussett's a baseball marvel, having honed as many as eight pitches by age fifteen. His bread and butter is a lively 96-98 mph fastball, touching 102. He claims to be able to throw harder, but notes that the fans complain about the noise from the sonic boom. He backs up his heater with a Vulcan changeup that comes in around 40 mph and fades away from lefties. Croussett's also been known to throw a power curveball, a slider with two plane break, a splitter than breaks unusually hard and late, a buzzsaw cutter, two variations of a gyroball, and a pitch that is believed to have never been thrown in the United States. For now it's known as the Melvinball, and the pitch can best be described as a reverse splitter, rising up as it gets to the plate instead of diving down.
Standing just 6'1″, 168 lbs, Melvin's mechanics are fluid and he has incredible balance throughout his delivery. He's an extreme strikethrower (with a regulation zone), painting the black like Claude Monet. Croussett also has impressive durability, having never been injured. He also claims to have never felt soreness in his arm, and only ices his shoulder and elbow during periods of heavy flooding, when there's too much water to go around.
2009 Outlook
The Yankees will again attempt to lure Croussett to the states in '09, however it will be up to him. If he accepts the invitation, the Yanks will have him start the year in Extended Spring Training not because that's where his talent he should be, but because he can teach Nardi Contreras a thing or two about pitching. He'd then jump to the Rookie level Gulf Coast League Yankees when the season start in June, only because the Yanks don't want to push him too far up the ladder so soon and give away their secret weapon.
My Take
Croussett is the best Yankee pitching prospect since Whitey Ford, and even that's debatable. It's hard to envision a scenario in which Croussett didn't develop into a bonafide top of the rotation starter and Hall of Fame caliber arm. The best MLB comparison I can think of is Randy Johnson's raw stuff plus Greg Maddux's smarts plus Pedro's mean streak plus Roy Halladay's command of his full repetoire plus Mo's ice water veins plus Boomer's love of a good time plus Andy Pettitte's dedication to church and family plus Mike Mussina's wit plus CC Sabathia's durability plus Tony Clark's nice guy-iness plus Jon Lester's feel good story. Keep an eye out for this guy.
DISCLAIMER: I may have made up some or all of this post. This one's for you Andy.