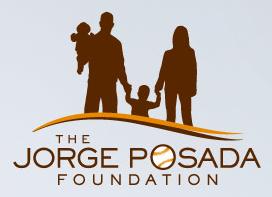 Back in March we announced our plans to run a pledge drive during the season to benefit The Jorge Posada Foundation. RAB was growing at an exciting rate, so we decided to take advantage of the increased popularity and do something for the good of mankind.
The terms of the pledge drive were simple: For every strikeout Phil Hughes, Joba Chamberlain and Ian Kennedy recorded during the season, readers would donate some fixed amount of money to Jorge's foundation. Most pledged $0.05 per strikeout like I recommended, but others pledged more, including a kind few who pledged $0.50 or even $1.00 per strikeout. All told we received twenty-three pledges, not including the three of us.
The problem was that The Big Three didn't exactly cooperate with our noble cause. All three pitchers spent time on a disabled list, plus Phil Hughes and Ian Kennedy pitched their way out of the bigs by May. At the end of the season, the three combined for just 168 strikeouts at the big league level, 118 of which belong to Joba. Thankfully, just about everyone agreed to boost the strikeout total by counting Hughes' & Kennedy's strikeouts from the minor leagues and winter ball towards their pledge. That boosted the K total up to 357.
I collected everyone's pledgess over the past few weeks, and last night I made the donation to the foundation. When it was all said and done, the total donation made to The Jorge Posada Foundation was $1,050 (I rounded my pledge up to make it nice even number). Despite the holidays and the struggling economy, most people donated more than their pledge called for, and we are grateful. To see a screen cap of the confirmation page, click here. I did add a note saying "Donated by the readers of River Ave. Blues, a full service Yankees fan site," but apparently that doesn't get noted on the confo page.
Thank you again to everyone who pledged their hard earned money to this cause, and thanks also the many other bloggers who linked to RAB to spread the word about our efforts. We greatly appreciate all of your guys' support.
If you missed out on the pledge drive but are interested in making a donation, visit The Jorge Posada Foundation website.