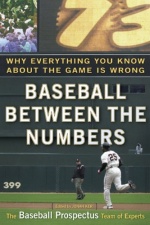 Every year for Christmas, my parents browse through my Amazon Wishlist and get me a ton of books. Sometimes, though, they'll pick out things that aren't on there which they think I might like. This year, it was Baseball Between the Numbers. Problem is, I already have the book. So instead of going through the Amazon return process and buying myself yet another novel, I've decided to put this to good use. It's the latest giveaway on Rive Ave. Blues.
We're going to do this contest style. Since we're in the free agent signing period, and since this is a particularly bizarre off-season, I figured we'd do a free agent guessing game. Who more appropriate than Bobby Abreu? The rumor mill isn't treating him well, even after Pat Burrell and Raul Ibanez have found homes. No one seems to have an idea of where he'll land, so that makes the game more interesting.
To enter, you have to guess 1) the team that will sign him, 2) the number of years he'll receive, and 3) the total dollar amount of the contract. So we don't have a situation where one person bids $10 million and another bids $10 million and one, we're going in increments of $500,000. So $10 million and $10.5 million are okay, but $10.1 million invalidates the entry. One entry per person. Make sure to leave a valid email address when you're filling out the comment form (do not leave your email address in the comment, though).
Update: Just to be clear, the criteria above are listed in the order of importance. So if you don't get the team correct, you can't win.