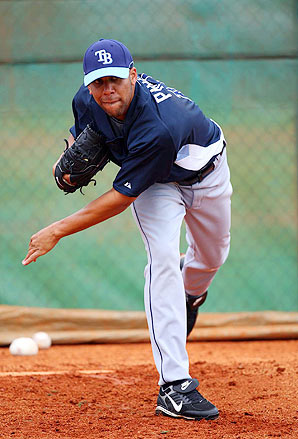 USA Today ran an article today that basically amounts to 100 young players you need to know for 2009. David Price predictably topped the list, and was followed by Travis Snider of the Jays and Chris Davis of the Rangers. Three Yankees made the list:
35. Brett Gardner, OF, Yankees: Right now, Gardner is stuck in a five-man logjam in the Yankees outfield. Things could clear up for him (a trade of Xavier Nady or Nick Swisher, further club dissatisfaction with Melky Cabrera) or get more crowded (Jorge Posada forced to DH, pushing Hideki Matsui into the outfield mix). Gardner, 25, gives the Yankees a needed burst of speed (he stole 13 bases in 14 tries) and does the little things well, but will need to hit more — maybe a lot more — to get playing time.

84. Austin Jackson, OF, Yankees: The weak link in the Yankees' lineup, at least offensively, is center field, where either Brett Gardner or Melky Cabrera is likely to be on opening day. By some point later in the season, it's not an unrealistic scenario that Jackson, 22, could be there. He is speedy with the ability to hit for average like Gardner but has more power. Cabrera can do similar things as Jackson offensively but slumped terribly at the plate last year. If Cabrera slumps again, Jackson will be a call away in Class AAA.

97. David Robertson, RHP, Yankees: Robertson, 23, emerged as a steady big-league bullpen option, then hit the wall with an 8.18 August ERA and was sent back to Class AAA. He throws hard enough to be a factor again this season, if not immediately.
These lists are very tough to put together, because you're not ranking guys based on who's the best player or prospect, you're ranking them based on who will have the biggest impact in the big leagues this year. That said, David Murphy (#11) over Colby Rasmus (#12) is laughable.
Couple other quick comments: Clayton Richard (#17) is way too high, Tommy Hanson too low (#34), and JA Happ (#95) extremely too low. I'd have Happ in the top 25, ditto Hanson. I love me some Jason Motte too (#25), dude had 126 strikeouts in 76.2 IP between Triple-A and the bigs last year. And I'm sorry, if you're going to include guys like Jess Todd, (#44) Adam Miller (#45), Scott Elbert (#50), and Phillippe Aumont (#72), then you have to include Mark Melancon. That's just crazy.
Anywho, there's your open thread for the night. The Nets are in D.C., and the Knicks are getting visit from LeBron. Anything goes, just be nice.
Photo Credit: Al Tielemans, SI