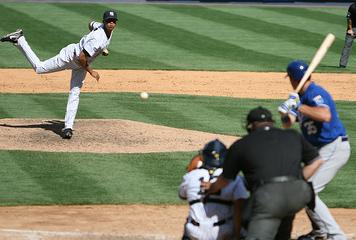 After cutting his Sunday bullpen session short because of a sore shoulder, an MRI has revealed that Edwar Ramirez will be out of action for about three days with bursitis. I'm skeptical that it's not something more serious, especially since Edwar complained of similar pain at the end of last season. Mark Feinsand reminds us that Steve Karsay and Ten Run Sturtze were both diagnosed with bursitis before undergoing major surgery. However, as Ben noted, this gives someone else a chance to win a job.
In other news, here's who's going to making the trip to Dunedin tomorrow for the team's first exhibition game, courtesy of Roderick Boone:
Infielders: Alex Rodriguez, Derek Jeter, Robinson Cano, Justin Leone, Eduardo Nunez, Ramiro Pena, Cody Ransom, Kevin Russo.
Pitchers: Brett Tomko, Jose Veras, David Robertson, Steven Jackson, Kei Igawa, Dan Giese, Christian Garcia, Michael Dunn, Anthony Claggett.
Outfielders: Colin Curtis, Shelley Duncan, Brett Gardner, Austin Jackson, Todd Linden, John Rodriguez, Nick Swisher.
Catchers: Kevin Cash, Jesus Montero, P.J. Pilittere, Austin Romine.
And because I'm a nice guy, here's a schedule of televised games over the next few days:
Wednesday: Giants @ Indians (3pm, MLB Network); Red Sox @ Twins (8pm, MLB Network)
Thursday: Rays @ Yanks (1pm, YES); Marlins @ Mets (1pm, SNY); D-Backs @ Indians (4pm, MLB Network)
Friday: Cards @ Mets (1pm, SNY/MLB Network); Indians @ Padres (5pm, MLB Network)
Saturday: Twins @ Yanks (1pm, YES); Rays @ Phils (1pm, MLB Network); Twins @ Yanks (5pm, MLB Network, guessing it's a repeat)
Hooray for baseball. Oh, and open thread … blah blah blah … be nice … yadda yadda yadda.
Photo Credit: Flickr user shamimsm