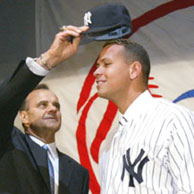 It seems like it was just yesterday, but on this day five years ago the Yankees acquired Alex Rodriguez in exchange for Alfonso Soriano and Low-A prospect Joaquin Arias. Texas also kicked in $67M of the $179M left on A-Rod's deal. After volunteering to shift over to third in deference to incumbent shortstop Derek Jeter, the Yankees had their new megastar.
It's no secret but A-Rod's been one of the more controversial figures in New York sports history, and until his recent PED admission it was almost entirely undeserved. It's nobody's business who he chooses to date, and his postseason struggles are obsessed over even though they're about 2% of the problem, with poor starting pitching being the other 98%. The fact of the matter is that A-Rod has been one of the most productive players in baseball since arriving in New York. He's hit more homers than anyone else in that span (208), scored the most runs (596) and driven in the second most (616). It's a trade you make a million times out of a million.
A-Rod will be holding a press conference tomorrow to address what's already been addressed, in the very same spot where Andy Pettitte admitted his mistake last year. Something tells me A-Rod won't get the free pass Pettitte has since received, he's not a True Yankee™©® after all.
So anyway, here's your open thread for the night. The Knicks, Nets, Rangers and Islanders are all in action. Anything goes, just be nice.
Photo Credit: Gregory Bull, AP