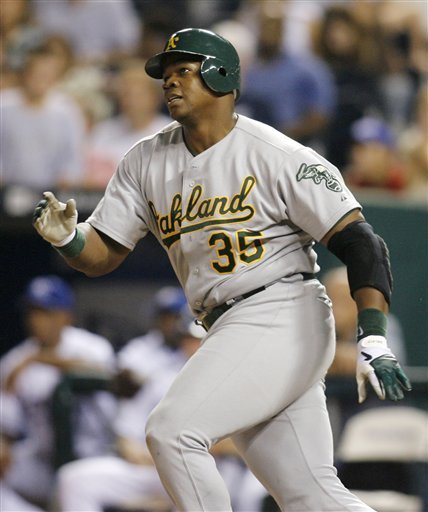 Phil Rogers of The Chicago Tribune wrote an interesting little nugget yesterday that I found at (where else?) MLBTR. Check it out:
There has been so little interest in Frank Thomas he doesn't even land in the rumors. He's not going to get ready while he's out of camp, which is why the Players Association needs to organize a spring training camp for out-of-work players. The White Sox's abandoned Tucson complex would be a perfect place.
First, let me plug this post from earlier today about Thomas. Secondly, it makes a ton of sense for the union to run something like this, especially in today's market. There's still roughly sixty free agents out there still looking for work, and a good chunk of those guys can still be assets to a MLB team and would benefit from such a camp. You could elementarily break them down into three groups:
Players hurt by the market: Bobby Abreu, Garret Anderson, Joe Biemel, Orlando Cabrera, Juan Cruz, Adam Dunn, Orlando Hudson, Braden Looper, Doug Mientkiewicz, Will Ohman, Dennys Reyes
Players looking to prove themselves coming off injury: Joe Crede, Scott Elarton, Randy Flores, Tom Glavine, Orlando Hernandez, Chuck James, Mark Mulder, Matt Wise
Veteran players looking to prove they have something left: Moises Alou, Rich Aurilia, Ray Durham, Damion Easley, Jim Edmonds, Keith Foulke, Nomar Garciaparra, Luis Gonzalez, Ken Griffey Jr., Mark Grudzielanek, Livan Hernandez, Jon Lieber, Kent Mercker, Jay Payton, Ivan Rodriguez, Curt Schilling, Rudy Seanez, Julian Tavarez, Frank Thomas, Mike Timlin, Ron Villone
Camp certainly wouldn't be mandatory, and the players would have to pay for their own living arrangements, etc. Pitchers could throw bullpens and live BP, position players could hit everyday and take fielding drills, stuff like that to help prepare them for the season and show what they have. Essentially it would just give these players a place to work out and gain exposure, while the thirty teams could go to one central place to see who could help them. They could even play a game against a club once a week or something.
I know there's a lot more that goes into this idea than I could possibly imagine, but it seems like something MLBPA should be seriously considering for it's members. Anyway here's your open thread for the night. Talk about whatever you like, just please be civil, especially when talking about A-Rod.
Photo Credit: First Base Tickets