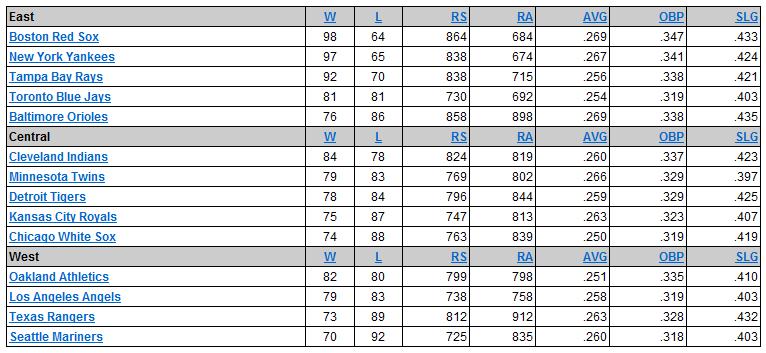 (click chart for a larger view)
Baseball Prospectus released their 2009 projected rankings yesterday, and sees the Yanks finishing second in the AL East behind the BoSox. PECOTA has the Yanks finishing 97-65, just one game back of the Sawx, but more importantly it projects the Yanks to have the best pitching in the majors. Their 674 projected runs allowed is ten runs better than Boston's, but what scares me is that the four best pitching staffs in the AL – and four of the five best staffs in the bigs – reside in the AL East. That's kinda crazy.
Based on these projections, the Yanks would finish with the second best record is baseball, although they'd have to settle for a Wildcard spot for the second time in the last three years. That's fine with me. Get in however you can, and I'll take my chances with a rotation of CC Sabathia, A.J. Burnett, Chien-Ming Wang and Joba Chamberlain in a short series. You can see the NL projections here.
Here's your open thread for the evening. The Islanders and Nets are playing at home tonight, and the Knicks are out in Oaktown. Anything goes, just be be nice.