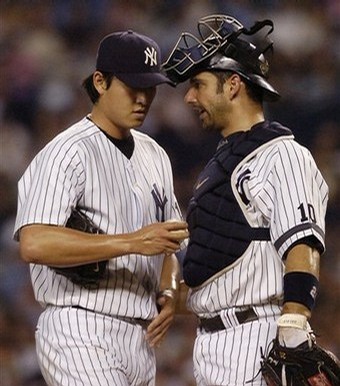 Pitchers and catchers are just eleven short days away, but two of the Yanks' most important pieces are already down in Tampa getting their workout on. Anthony McCarron has the word:
Anyway, I am down here for a little pre-spring training visit and saw several Yankees hard at work, including Jorge Posada and Chien-Ming Wang. Posada has been showing up most days since early December to get his surgically-repaired shoulder ready for the season and says he can feel great progress and there's no pain. He made 140 throws during a workout Monday and says he'll increase the intensity Wednesday. He throws every other day and while he won't be ready to catch in spring training until at least March 6, he said, he will be ready for opening day.

After a light workout in the batting cage, Posada went through a series of strenuous exercises in the weight room and did some agility drills.

[snip]

As for Wang, he threw his first pre-spring training bullpen, going for seven minutes and 27 pitches. Decked out in a dark blue shorts and a gray Yankees' T-shirt pulled over a long-sleeve T-shirt, he threw only fastballs under a blue sky. Pitching coach Dave Eiland was among those who watched, along with pitching guru Billy Connors.

Wang, whose 2008 season was wrecked by foot injuries, said afterward, "Everything feels fine. It's just normal." Wang had gotten a clean bill of health in October from Yankee doctors, even throwing a few bullpens then. When he went home to Taiwan during the winter, he did a lot of fitness work on his feet, he said.
Well, of course Posada thinks he'll be ready for Opening Day, anyone could have told you that. The real issue is whether or not the doctors say he's ready. It's very encouraging that he's so far along in his rehab and hasn't suffered any setbacks, but until he gets back out there in game action we just won't know. Same goes for Wang.
Anyway here's your open thread for the night. Rangers great Adam Graves is having his #9 jersey retired tonight at the Garden. The ceremony started at 6:30, but you can still flip over and catch the bulk of it. Hot shot prospect Artem Anisimov will also be making his NHL debut for the Blueshirts tonight, think of it as the hockey equivalent of Phil Hughes' first start. The Nets are hosting the Bucks, and the Knicks won't give up 61 points to one player tonight because they're off. The Caribbean Series (Mexico vs Venezuela) is on MLB Network at 9pm. Hooray for live baseball. Anything topic's fair game here, just be cool.
Photo Credit: Bill Kostroun, Associated Press