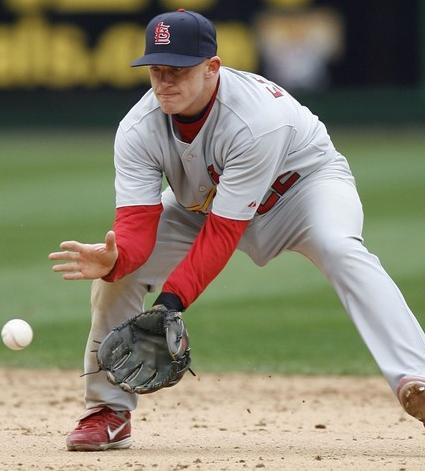 This is the time of year when we fans have nothing to complain about except the bench. With the additions of CC Sabathia & AJ Burnett, as well as the return of Andy Pettitte, the Yanks' starting rotation is as set as can be in February. Phil Hughes, Ian Kennedy and Al Aceves provide some Triple-A depth for spot starts. The bullpen is chock full of options, and the additions of Mark Teixeira and Nick Swisher fortify the offense. Just about the only part of the team that can use some real improvement is the bench corps.
One problem with being the Yankees is that it can be tough to get those borderline everyday/bench players to come to the Bronx because of a lack of opportunity. Take David Eckstein for example. The little scrapper would have been a solid pickup as a backup middle infielder, providing pesky at-bats of the bench while being capable of playing everyday should Derek Jeter or Robbie Cano hit the DL for a few weeks, but why would he pass up a chance to start and play everyday for the Padres for the opportunity to ride the pine for the Yanks? It just makes sense for him to head to San Diego.
Because of this, the only real way the Yanks can acquire quality players for the bench is by trading for them. Just look at the 1996 team's bench: Charlie Hayes and Cecil Fielder were both acquired in mid-season trades – Hayes from the Pirates for a PTBNL, Fielder for the disgruntled Ruben Sierra and 1993 first rounder Matt Drews, who was in the process of flaming out because of extreme control issues. Both Hayes and Fielder were available because of unfavorable contract situations, so why can't the Yanks work a similar scheme thirteen years later?
After the jump is a few potential mid-season trade targets that fit the bill for that oh so terrible bench.
Catchers
It's the thinnest position in the majors, as quality catchers are few and far between. With Jorge Posada's shoulder an unknown and Jose Molina not fit for every day duty, this is the one spot where the Yanks are most likely to need an upgrade midseason. The best possible mid-season fill-in is another Molina, Jose's older brother Bengie. The Giants' cleanup hitter is in the final year of a three year pact that pays him $6M in 2009, and if the Giants drop out of the race they could look to move Bengie to make room for uber-prospect Buster Posey. He can handle everyday catching duties and isn't an embarrasment with the bat, so he'd be an ideal fit. The Giants are likely to contend in a weak NL West, so Molina's availablility is far from a given.
Another player worth mentioning is the Brewers' Jason Kendall, who has proven himself to be supremely durable (at least 133 starts behind the plate for nine straight years) and had a tolerable year with the bat in '08 (.246-.327-.324, .293 wOBP). He's owed $5M this year and the Crew could look to move him to make room for prospect Angel Salome. Given their current pitching situation, contending is not a given for the upstart Beer Makers. Also keep an eye on Henry Blanco; the Padres will almost assuredly look to the move the veteran backstop for a young player or two at the deadline with Nick Hundley waiting in the wings.
Infielders
Everyone fell in love with Cody Ransom after he knocked two balls out of the park in his first two plate appearances in pinstripes, but it's not an accident that the 33 year old has been with five different organizations in the last five years. I'm all for given Ransom a shot at the backup infielder spot to start the year, but it's easy to envision a scenario where a replacement is needed by June. Angel Berroa is known commodity of sucktitude, so I don't consider him an option.
Two players that could be interesting are Freddy Sanchez of the Pirates and Mark DeRosa of the Indians. Sanchez won the NL batting title in '06, but has since regressed to replacement level, finishing with a 0.1 VORP last year. However he had an outstanding second half, hitting .353-.383-.495 after July 19th. If he gets back to his .300-.336-.419 career average, he'd be a solid pick up for the bench since he can hanfle second, short and third base in a pinch. I'm sure the Buccos would love to unload his $6.1M salary, not to mention the $8M option for 2010 that could vest based on plate appearances.
The Indians acquired DeRosa this offseason when the Cubs needed to shed salary, and they've handed him their starting third base job. The Indians are the perpetually trendy sleeper pick, but after dealing CC Sabathia mid-season last year it's not hard to see a scenario where GM Mark Shapiro makes DeRosa available for the right price. He's slated to make $5.5M and become a free agent after the season, and given his strong offense (at least a .349 wOBP the last three years) and extreme versatility (he played everywhere but center field, catcher and pitcher last year) he'd obviously make an excellent bench player for any team. Also keep an eye on the aforementioned Eckstein, who Kevin Towers could flip for a young player much like Blanco.
Outfielders
The Yanks have a crowded outfield already, as they could start the season with as many as five players on their roster capable of playing the outfield every day, plus Hideki Matsui occupying the DH spot. Despite that, it's possible that the Melky Cabrera-Brett Gardner tag team in center field might not cut it, and Cashman & Co. will need to look outside the organization for a fill-in. The Giants could make Randy Winn available just like Molina, and he'd be a suitable half-season centerfielder.
Other than Winn, you have guys like Endy Chavez (+40.9 [!!!] avg UZR the last three years) and Marlon Byrd who could be made available before they hit free agency. The Mariners owe Endy $2.05M this year, and when it comes to being a backup outfielder in New York, he's already been there, done that. Byrd's offense is clearly a product of Texas' ballpark (.327-.401-.506 in Arlington, .266-.328-.383 everywhere else) but he could still represent an upgrade, and his defense at all three outfield spots is solid. He's owed $3.06M this season, but there's a chance he could lose a job to prospect Julio Borbon by June.
Remember, it's only February. The team that plays in September and October will look quite different than it does right now. There's no need to rush into upgrading spots that we aren't even sure need upgrading yet.
Photo Credit: Gregory Shamus, Getty Images