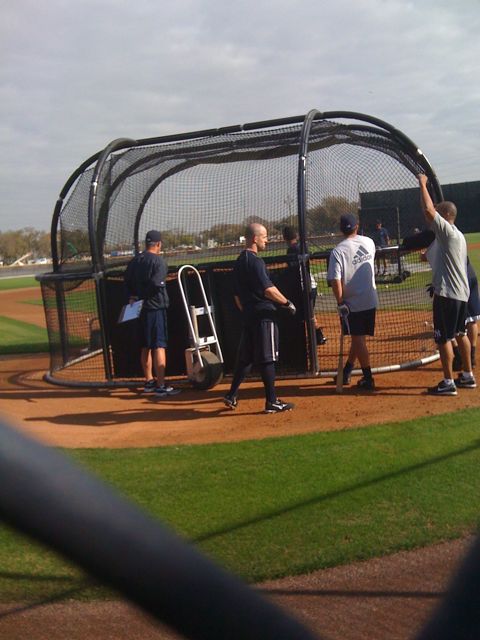 It's a beautiful thing, ain't it? Yankees' players on the field, taking batting practice, playing catch, getting work in … it's exactly what we need to see right now. Pitchers and catchers aren't due to report for another four days, position players not for another seven days, yet there's still a nice group of players in camp early and working out.
Mike Rose of Newsday noted that two of the players out playing catch in the outfield were Mark Melancon and Phil Hughes. Man, how much are you looking forward to seeing Melancon nail down wins for Hughes for the next decade? Rose also noted that Brett Gardner (who you can see in the pic above), Derek Jeter, Jorge Posada and Nick Swisher were taking BP. Joe mentioned earlier that Posada's rehab from shoulder surgery is going well, though he won't be ready to catch when exhibition games begin. Good to see he's healthy enough to at least take some hacks.
Getting back to Swisher, PeteAbe has a shot of him taking BP, although it's not the best picture in the world and we'll have to take Pete's word for it. Last I heard Swisher lives out in Arizona (where the A's and ChiSox hold ST), so it's awesome to see him at camp early. As you may remember, Swisher lost some weight this winter. Pete also noted that Chien-Ming Wang is in healthy and in the house. That's UUUGE.
Over on the minor league side, Chad Jennings touched based with Mark Newman and got a bunch of info about the Triple-A rotation, veterans on minor league deals, Eric Fryer, JB Cox, Colin Curtis, Alan Horne, and lots more. Make sure you check it out.
Other than Gardner pledging his undying support, no one really bothered to comment on A-Rod. Can you blame them?
Oh boy, baseball's almost back.
Photo Credit: Pete Abraham, Journal News