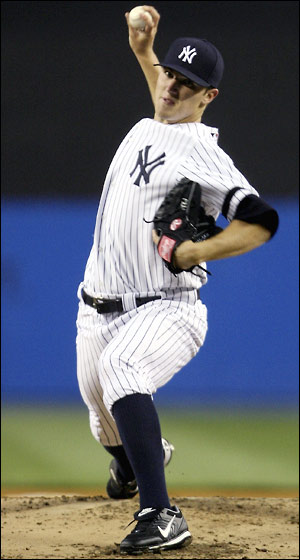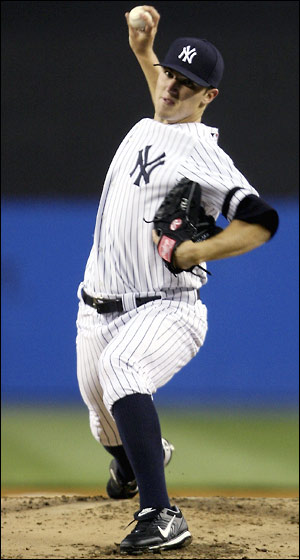 The start of the 2008 season was an exciting time for us Yankees fans. The team had two young and talented pitchers in the rotation for the first time in a long time, and a third in the bullpen that was slated to join the other two in the rotation later in the summer. Of course things didn't go as planned, as Phil Hughes and Ian Kennedy struggled before getting hurt, then Joba Chamberlain joined them in the infirmary after successfully making the transition to the rotation. Other than being young and being Yankees, those three guys don't have much in common. They're three different kinds of pitchers with three different body types and three different development tracks, yet they all got hurt, albeit in different ways. Why is this?
Enter former A's and Mets' pitching coach Rick Peterson. Peterson and Gary Armida, author of Full Count Pitch, sat down and talked about the epidemic of young pitchers getting hurt (h/t BBTF). The article starts with Peterson stating the industry in general has been slow to react to all the injuries, and that the focus needs to be shifted from "rehab to prehab." Amateur coaches (going all the way back to little league) don't have enough information about the proper way to develop young pitchers, which has been a major contributor to the explosion of pitching injuries.
Aside: While I agree that amateur coaches don't have enough info, we also have to remember that their job isn't to develop players, it's too win. Why should Tony Gwynn (coach at San Diego State) take it easy on Steven Strasburg, the likely first overall pick in the 2009 draft? The team that drafts Strasburg isn't paying Gywnn, the school is, and that's who he has an obligation to. It's his job to do what's right for the university, not what's in the best interest of Major League teams. It's a grey area, and we have to remember that the vast majority of college pitchers will never throw a professional pitch, let alone a big league pitch, so is it right to treat the true prospects differently than everyone else?
The article then goes on to list the three root causes of arm injuries. I'm going to quote at length, so let's add a jump to keep from overflowing the front page.
Root Cause #1: Bad Mechanics
"Unfortunately, with amateur pitchers, this can be trained very early. One of the first problems is getting a young pitcher to grip the ball properly. How the heck can an 8 year old properly grip a baseball? His hands are too small." This is most definitely the case. If one looks at training methods for other youth sports, most younger athletes are trained with a different set of equipment. In youth football, the ball is smaller. The same can be said for basketball. Coach Peterson jokes, "Can you imagine giving a ten year old an NFL football and saying 'here kid, grip and throw the ball like Eli Manning'. It's not realistic, yet we don't have that option in baseball."

The most important aspect of a poor delivery is the impact it has on a youth's arm. The violence of a pitching delivery is very real. Coach Peterson explains, "Think about the pitching delivery as an upside down tornado. Hip rotation determines velocity. If the delivery is executed properly, the shoulder doesn't do much work. But, in order for the shoulder not to feel the brunt of the workload, everything must be in sync, on-time, and in coordination with the rotational velocities, the lower body and the upper torso." In other words, if a delivery is done correctly, the impact on the shoulder is minimal. The problem is that most amateur level coaches (I was a high school baseball coach for 10 years, so don't take the following as a slight) do not have the pitching education to correct such deficiencies. Instead, most coaches will say to a pitcher something to the effect that the pitcher is "flying open". But, as Coach Peterson explains, that merely means that the pitcher is out of sync which "puts a ton of pressure on the shoulder during the acceleration phase of the delivery."
Now, the problem is determining what constitutes good mechanics. Every player is different, and what works for one isn't necessarily what works for another. Sure, a general blueprint can be developed, but it would have to be adjusted to fit each pitcher. Are amateur coaches capable of this? Is it worth the time and money to educate them on it?
Remember, only Joba and IPK went down with arm related injuries last year; Hughes suffered a cracked rib, and in fact he's only had two arm issues in his career (a sore shoulder and a tender elbow) and none since 2005. Joba famously went down with rotator cuff tendonitis while Kennedy dealt with a strained lat and right shoulder bursitis. Could this be attributed to their amateur workload? Kennedy was a three year ace at a major college program and worked a heavy, but typical college workload. Joba's a bit different, and kind of ties into the second cause of injuries.
Root Cause #2: Poor Conditioning
Quite simply, amateur athletes are not conditioned to pitch as much as they do. Coach Peterson wonders about the following, "How many amateur pitchers are made to do shoulder strengthening exercises as a part of their youth programs? The answer is probably none." Essentially, young pitchers are throwing more than ever, but failing to properly condition their shoulders, arms, legs, torso, etc. in order to handle the increased workload. Additionally, conditioning comes into play during the deceleration phase of the delivery. Based on ASMI (American Sports Medicine Institute) research, most amateur pitchers are not old enough (or developed enough) to properly drive through a pitching delivery. Coach Peterson gives a car analogy, "You wouldn't give a kid the keys to a sports car without brakes, would you? Well, that's similar to what's happening to young pitchers. They are not conditioned enough to properly execute a delivery."

The hard throwers are the group that is most at risk for injury, especially if they are poorly conditioned. Why? Well, to start, on the amateur level, the pitchers who are used the most are the hardest throwers. Having a hard thrower on the mound is the easiest way for an amateur team to win a game. It can be assumed that if a pitcher is throwing harder, the acceleration within that aforementioned 0.3 seconds is much quicker and much more violent. Poorly conditioned, young pitchers will break down as a result.
Joba has a history of conditioning issues. It's overblown in terms of his current physique, but when he was in school there were considerable concerns about his weight, which ballooned as high as 270-280 pounds. He battled a knee injury at his heaviest, which could be attributed to all the extra weight. Also, while his delivery isn't max effort, there's definite effort in there which could lead to problems down the road. Could a better conditioning program in college have helped him? Of course, but again this falls back on being able to educating amateur coaches.
Hughes has long rocked an ideal pitcher's frame, standing 6'5″, 230 pounds, and by all accounts he's well conditioned with no weight issues and a free and easy motion. Kennedy is on the small side (5'11", 190 pounds) but has been lauded for being able to repeat his delivery like a robot since high school. While Kennedy's size could have contributed to his injury, we also have to remember that he was struggling at the time and could have easily been overthrowing to compensate.
Root Cause #3: Workload
There are many different variations of the term overuse when it comes to pitching injuries. In this case, Coach Peterson is not talking about in a particular season or a particular game (although that can also be a small factor). Instead, he speaks of overuse in the context of entire year. "The days of the three letter athlete are over. Today, amateur baseball is played year-round. Amateur pitchers will play in travel leagues all winter and continue to throw. Quite simply, there is not enough time for a player to rest. The winter should be a time for the body, the muscles, to rest and recover."

In the age of increased specialization, this issue is not likely to resolve itself soon. As amateur baseball continues to be played all year round and become even more competitive, pitchers are put at risk. Couple the fact of a lack of conditioning with overuse and one as a recipe for disaster, or in this case, the epidemic of pitching related injuries.
This is most applicable to Kennedy. Hughes worked the showcase circuit as a high schooler, but has been babied and far from overworked as a pro. Joba didn't really become a full-time pitcher until he got to Nebraska in 2005, and has topped 110 IP once only in the last four years. Kennedy on the other hand was always "a guy." He was a high profile high school prospect that participated in a ton of showcase events, then worked full college workloads in the spring before pitching with the USA National Team and various summer leagues in the college offseason. Given his smallish size and heavy workload, Kennedy could be more at risk for injury than the Yanks other young pitchers. However, how much does Kennedy's easy and repeatable delivery counteract that? I'm not sure anyone can give us an answer.
The article continues on the discuss Peterson's various clinics and development breakdowns, but I wanted to discuss how each of these three injury causes relates to the Yanks' young arms. It's funny that based on the above, Hughes should be the least injury prone of the three, yet that certainly isn't the case in reality. Just keep in mind that the bulk of his injury history – a broken toe, a pulled hammy, a cracked rib – weren't directly caused by pitching (well, I suppose the rib could be, but that would be a little far fetched).
Make sure you give the article a read, it's a good one.
Photo Credit: AP via SI