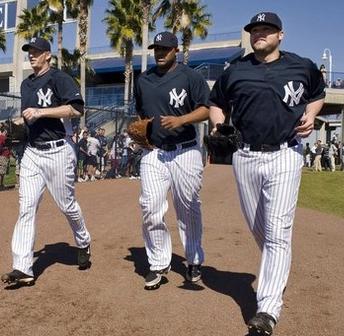 Joba Chamberlain will make his first appearance of the spring this afternoon, and luckily for all of us the game will be on YES. He'll be opposed by some guy named Liriano, and according to LEN3 ex-Yank Sean Henn is scheduled to make an appearance.
Chad Jennings notes that Brett Gardner and Phil Coke will be presented with the 2008 Kevin Lawn Awards before the game, given to the organization's Minor League Player and Minor League Pitcher of the Year. Back in September I gave those awards to Jesus Montero and Zach McAllister, respectively, but Gardner and Coke are certainly deserving.
First pitch is scheduled for 1:15. Here's the lineup, courtesy of Bryan Hoch:
Damon, LF
Jeter, SS
Teixeira, 1B
A-Rod, 3B
Posada, DH Swisher, RF
Cano, 2B
Swisher, RF Molina, C
Molina, C Duncan, DH
Melky, CF
Scheduled Pitchers: Joba Chamberlain, Mike Dunn, Jose Veras, Dan Giese, Kei Igawa, David Robertson, Steven Jackson, Kanekoa Teixeira
Based on my highly scientific system of counting the number of pitchers scheduled to pitch and comparing that to the number of innings typically played in a game, I'm guessing we'll get two innings out of Joba.
If you won't be around to catch the live broadcast, MLB Network will be replaying it at 5pm, as will YES at 7pm. I might watch all three.
Update (1:01pm): Posada's been scratched with shoulder discomfort. Hopefully it's nothing serious. No word on the lineup change yet.
Update (1:07pm): Shelley Duncan's the new DH.
Photo Credit: Reuters Pictures