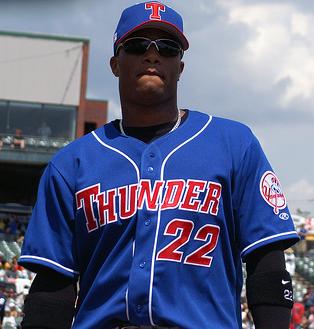 One of the biggest goats of the 2008 season was second baseman Robbie Cano, who saw his offensive output drop from .306-.353-.488 with a .358 wOBP in 2007 to just .271-.305-.410 and a measly .307 wOBP last year. Many a pundit pointed to his newfound financial security as the culprit, others pointed to Larry Bowa's departure. Whatever it was, the Yankees need Cano to rebound not just for 2009's sake, but for the sake of the team's future because he's their only established position player closer to his 25th birthday than his 30th.
Dan Turkenkopf of Beyond the Box Score took a look at what could have been the reasons for Cano's down year, and whether or not there's rebound potential. Turkenkopf looked at three statistical components of Cano's year, so let's summarize:
Contact Rate: This was unchanged compared to past year's, but it's not the best way to measure offensive performance.
BABIP: Cano's BABIP dropped 45 points from 2007, down to .286, indicating that he might have run into some bad luck. Simple regression to the mean (.323 career BABIP) indicates bounceback potential.
Isolated Power: Of the hits Cano was able to pick up last year, not many dropped in for extra bases. His IsoP bombed 43 points to just .139, well below the ~.180 level he was at in 2006 and 2007. Expecting a return to his career mark isn't as simple as it is with BABIP.
The article notes that we should expect Cano to perform better at the plate in 2009 than he did in 2008, but matching his 2006-2007 levels might be too much to expect. The drop in IsoP is troubling, so that's something we'll have to watch.
One thing that should be mentioned is the late season change to Cano's batting stance, something Joe touched on back in October. While we can't draw anything conclusive from such a small sample, Cano hit the snot out of the ball after the change, which if nothing else is cause for some optimism. Also, it's worth noting that 2008 Robbie Cano hit almost like 2007 Robbie Cano for a pretty big chunk of the season, going .301-.329-.451 from May 8th on.
Aside from the offense though, Robbie's defensive value was way down last year. Using the +/- system, Cano went from a +22 defender in 2007 to a -13 defender in 2008, a 35 run play (!!!) swing. Fangraphs has his 2007 defense valued at +10.8 runs, and his 2008 defense at -7.2 runs, a much more modest 18 run dropoff. We can't say for sure if this was Cano taking his struggles at the plate into the field, or if he lost a step in his range, or if he's just another Lazy Latin American Player™, but it's something he needs to improve. There's no excuses really, he's only 26 and basically in his athletic prime. All it takes is hard work.
As the stats indicate, the offensive demise of Robinson Cano has been greatly exaggerated. The Yanks are on the hook for a minimum of $27M over the next three years, so they need him to get back to being that 4-5 win player he was and can be.
Photo Credit: DC Products