Over the past two days I've been looking at how the Yanks' minor league pitchers have performed over the last two years using Brett Sullivan's Dominance Factor (here's 2008 and 2007), and today I'm going to take it back to 2006. I'm sure you remember that DF is based on a pitcher's strikeout, walk, and groundball rate, as well as age relative to level, but if not then there's a little reminder.
If you were following the farm system back then, than I'm sure you'll love reliving the glory days of 2006. It was the year Tyler Clippard threw the first (and only) no hitter in Trenton Thunder history, the year a Texas-born southpaw named Chase Wright was named the Florida State League Pitcher of the Year, and the year that the tandem of JB Cox and TJ Beam formed the most dominant one-two bullpen punch in all of minor league baseball. But more than anything, 2006 was the year of Phil Hughes' coming out party.
It's no surprise that St. Phil tops the 2006 list, his second half at Double-A Trenton was absolutely epic: 10.71 Kper9, 2.48 BBper9, 55% groundballs, .183 batting avg against and a 2.15 FIP all while being about two years too young for the league. His DF score of 80.80 in 2006 was far and away the best in the organization, and the only player within 17 points of him was … Phil Hughes at High-A Tampa. They might harp on your fastball and call you a bust Phil, but we'll always have Trenton.
The table's after the jump, and as always click for a larger view. It's pretty amazing that only 13 of the 60 players listed are still with the organization at this very moment. So much turnover.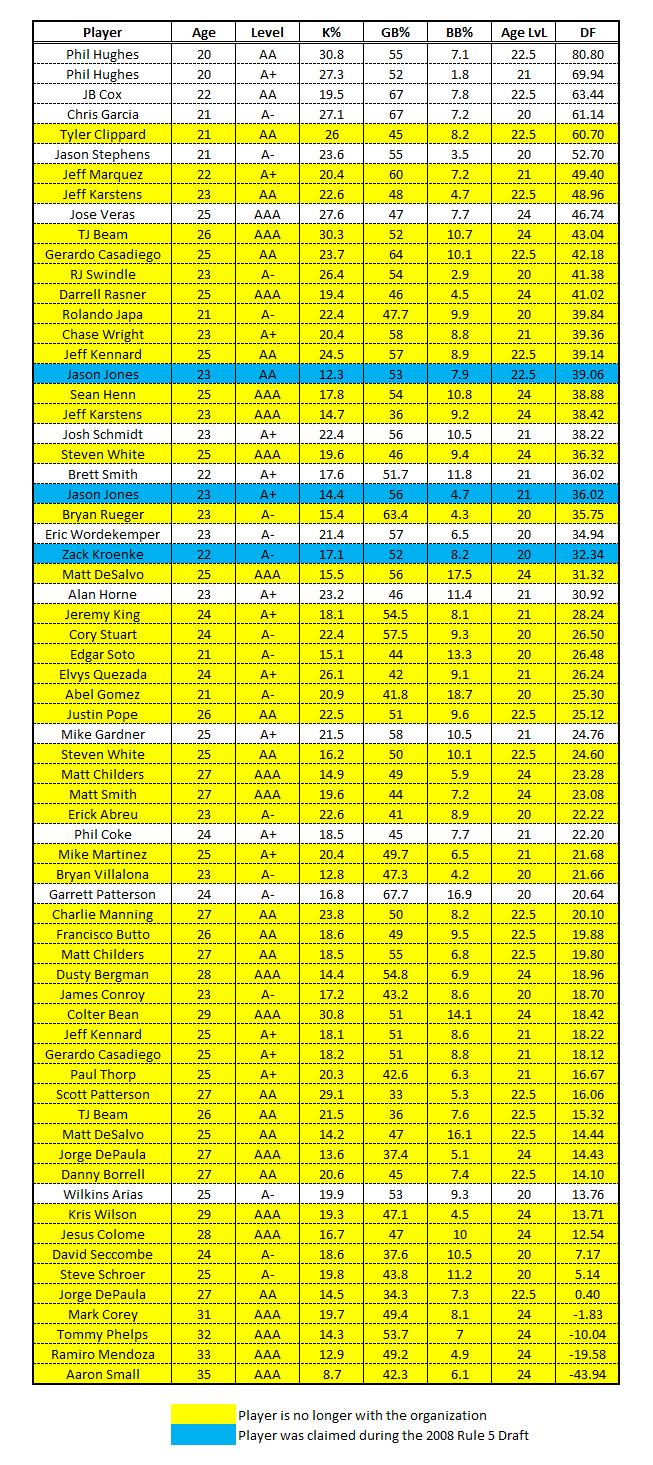 First Inning's data only goes back to 2006, but Minor League Splits has 2005 stats, so I might roll out one more of these. It's a fair amount of extra work, so we'll see how it goes.