Last summer Brett Sullivan at Project Prospect presented a new metric he developed for minor league pitchers called Dominance Factor, which measured performance based on four key factors: strikeout, walk and groundball rates, as well as age relative to level. He adjusted the formula a few weeks ago to more accurately weigh groundball rate and age, and now what we have a nice easy number that gives us an idea of how well a pitcher performed at their level.
It's a very straight forward formula that requires nothing more than simple addition, subtraction and a tiny bit of multiplication. I was going to show you an example of how it works, but it's not worth the effort. If you click the first link above, Sully runs through an example for you. What I did do though is run the numbers for all of the Yanks' minor league pitchers in 2008. Well, not all of them, just guys with at least 25 IP at any level from Low-A up through Triple-A.
I'm sure there's a way to combine stats across several levels, but I'm not smart enough to figure out how to do it. Instead you're getting different number for each player at each level in which they pitched, meaning you'll get Zach McAllister's DF at both Low-A and High-A. As you can imagine the data table is pretty big, so I hid it behind the jump.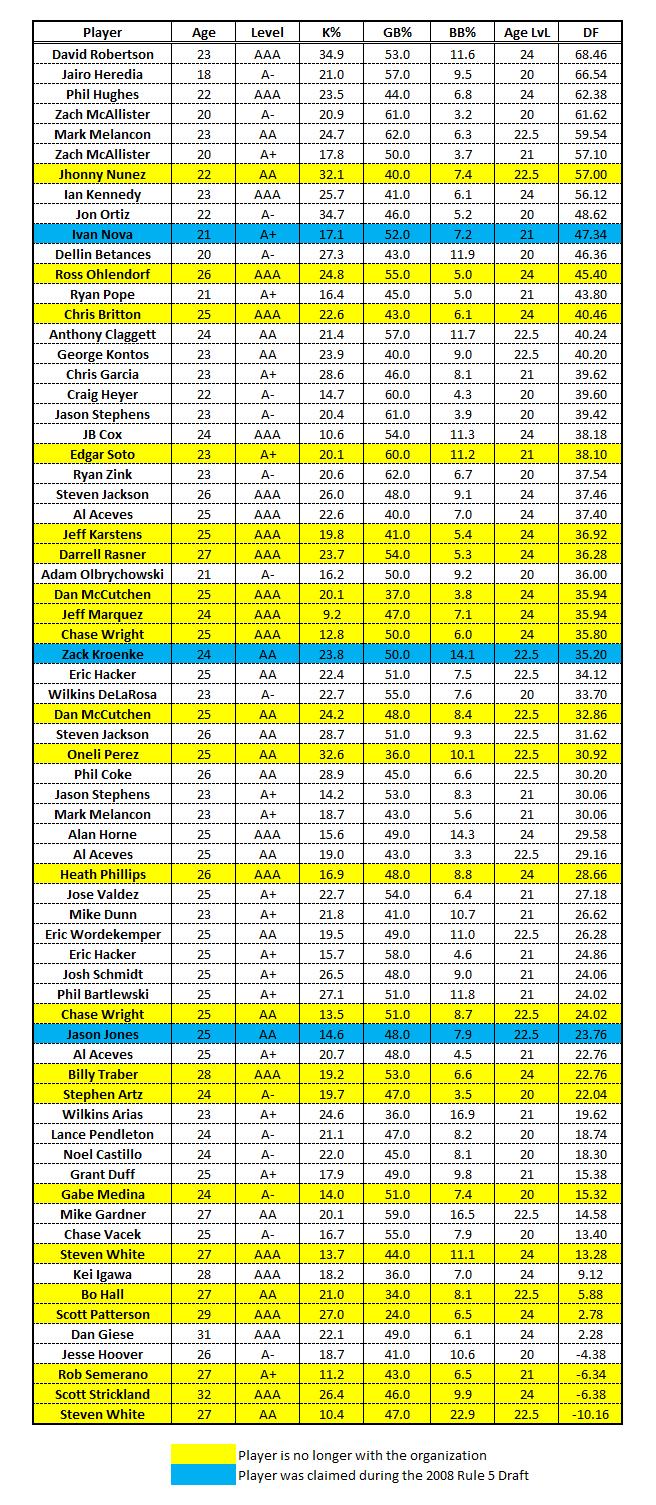 (click the chart for a larger view)
The data gives us a nice little bell curve; there's a small amount of players that scored very well, a small amount that scored very poorly, and a whole lotta guys in-between. You can see how important age is, since the bottom of the list is cluttered with guys who actually performed well, but were old for their league. The 25 IP requirement might be a little low (I wanted to get Hughes' time with Triple-A in the analysis, and he was at 29 IP), and that's why four of the top ten are relievers. Perhaps setting a minimum of ten starts, or something like that, would have been more appropriate, but whatever.
I am somewhat surprised to see that there is that much separation between the top two and the rest of the pack. D-Rob's strikeout rate was absurd and he put up a strong groundball rate while being young for Triple-A, which is why he scored so well. Jairo performed well in all three rate stats but got a big boost because he was so young for his league. Phil Hughes is just the freakin' man, he's still going to be young for Triple-A this year.
I got all the data from First Inning, which conveniently lists all the necessary rate stats sorted by level. Their data goes back to 2006, so at some point I'll run the numbers for '06 and '07 as well.