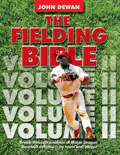 Baseball all boils down to runs. As the Moneyball/Baseball Prospectus crowd have long realized, the more runners a team has on base, the more runs they are going to score, and the more games they are going to win. Hence, the recent emphasis on on-base percentage and other offensive-oriented stats.
Over the last few years, a nascent field of statistical analysis has come into its own largely in part of the efforts of John Dewan. Three years ago, Dewan unveiled his plus/minus system in a way to measure how teams prevent runs from scoring.
This year, in his second volume of The Fielding Bible, Dewan takes this analysis one step further with Defensive Runs Saved by position. The book contains year-by-year rankings and three-year cumulative totals for all Major League Baseball players, and as expected, the Yanks in 2008 were pretty terrible in the field. That is, after all, what happens when you build a team around hitters.
Here's how the Yanks' starters did:
[TABLE=11]
Overall, according to The Fielding Bible, the Yanks featured a total -43 Team Defensive Runs. As Dewan figures that 10 Defensive Runs is the equivalent to one win, the Yanks' defense cost them around 4 wins last year.
Things, though, are looking up for 2009. While Jorge Posada will hopefully take over the bulk of Jose Molina's catching duties, he more than makes up for it offensive. (Aside: Dewan's book features an excellent essay comparing Molina's impact behind the plate. It's hard to overrate Jose Molina as a defensive catcher. He is truly in a class by himself.)
Meanwhile, Mark Teixeira and his +17 fielding rating will replace Jason Giambi's -13. Johnny Damon will notch a full season in left field, and Xavier Nady could be a +10 improvement over Bobby Abreu. It's tough to say how the center field battle will shape up between Brett "Babe Ruth" Gardner and Melky Cabrera, but in the early going, Dewan's system prefers Gardner.
Now, it would be really easy and far too simplistic for me to proclaim the Yanks four wins better because of their projected +40 swing on Defensive Runs between 2008 and 2009. As Dewan notes, defense is only half of the battle, and the book ends with a chart of Total Runs adding up the top 260 players' offensive and defensive contributions. For example, despite his terrible fielding, Bobby Abreu was responsible for three more runs — or 0.3 wins — than Xavier Nady. Mark Teixeira was responsible for a whopping 74 runs — or 7.4 more wins — than Jason Giambi.
The Yankees went into the 2008-2009 off-season intent on improving the team's defense. That was, after all, why Manny Ramirez drew so little interest from the Bronx. On paper, at least, they seem to have accomplished that goal. Derek Jeter and Robinson Cano still raise some eyebrows up the middle, but overall, the Yanks should have a solid fielding team in 2009. That should be a welcome relief from the last few seasons.