Robinson Cano and his sub-par 2008 season have been major issues of discussion this off-season. While many Yankees fans figured he'd improve upon his 2007 season, he got off to a horrid start before bringing himself back to an acceptable level of offensive production (.298/.324/.452 from June 1 on, .302/.331/.464 from July 1 on). Mike linked to a Beyond the Boxscore analysis of Cano, which used Cano's contact rate, BABIP, and Isolated Power to show that we can expect a rebound, but not to get pie-in-the-sky and think that he can reproduce 2006. That sounds reasonable, and I think Yanks fans everywhere would take Cano's 2007 — even considering his slow start — in a heartbeat.
Yesterday, Moshe Mandel of The Yankee Universe took an in-depth look at Cano from both a statistical and scouting point of view. On the scouting end he discusses Cano's stance, which became a big issue later in the year. After experiencing success with an open stance for his entire career, hitting coach Kevin Long though tit better to close it up. You can see the difference in this post on Cano's 2008 season: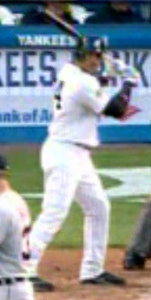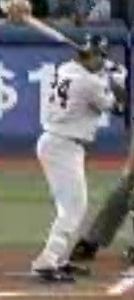 So what was the difference in 2008 which caused concern for Cano's stance? Mandel tackles the issue:
Another obvious problem with Robbie's swing was the motion of his head combined with his front shoulder flying open. Players are supposed to keep the head looking at the pitcher, and then the ball, at all times, while the front shoulder remains square to the pitcher. Robbie consistently pulled his head early while allowing his front shoulder to fly open, which contributed greatly to his unbalanced swing and resulted in plenty of softly pulled balls on pitches that Robbie would typically drive.
Why weren't these issues a problem in the past few years? That's tough to say. It would take some serious video analysis to see exactly how his body moved through the swinging motion, and how that changed from 2006 through 2008. Makes me wish there were an easy way to find such compilations. Maybe MLBAM could one day offer this as a premium service for nerds. I'd rather pay for that than my ESPN Insider account.
On the statistical end, Mandel takes things a bit further than the typical BABIP argument that Cano was unlucky. He cites a Rich Lederer article which notes the values of line drives, ground balls, and fly balls.
When it comes to batting average, line drives are king, followed by groundballs, outfield flyballs, and infield flies. … However, when it comes to production, flyballs are more valuable than groundballs. To wit, including home runs, line drives produced .40 runs in 2007 and .39 in 2008, while the average outfield flyball yielded .18 runs in 2007 and 2008. Meanwhile, the average groundball generated .05 runs per event in 2007 and .04 in 2008.
Cano saw a decrease in ground balls and an increase in fly balls last season, so this could have drive his batting average down. Mandel: "Essentially, Cano hit fewer grounders and more flyballs without gaining the run production that increased flyballs would give a hitter whose swing is not faulty. One other point to notice is that Cano's O-Contact% and FB% saw a significant increase, affirming the point that pitchers were throwing Robbie fastballs out of the zone, and he was more than willing to just put them in play rather than fouling them off or laying off of them."
I've loved Cano ever since he came up in 2005, and I've had high hopes for him ever since. He delivered in 2006 and 2007, which makes me think that his 2008 problems are surmountable. He's worked heavily with Kevin Long, and by all accounts has done all he can this winter in order to fix the flaws in his swing. Given his talent, this should all add up to a solid campaign for Cano in 2009 and beyond.